If you're on the hunt for the ultimate snorkelling experience in Antigua, your search ends here. This article will serve as your comprehensive guide, detailing the premier snorkelling destinations across Antigua. From essential travel advice on accessing these spots to optimal tour selections, I've got you covered as a PADI Divemaster you're in good hands!
Referred to as the "Island of 365 Beaches" Antigua stands as a prime jewel among the Caribbean's sought-after getaways. Its allure is rooted in a multitude of factors, including a surrounding collection of stunning white sand beaches. Among these coastal treasures, several offer exquisite snorkelling opportunities right from the shoreline. Yet, the splendour of Antigua's snorkelling doesn't stop there – certain remarkable sites beckon you to embark on boat tours or kayak ventures for an even more profound underwater encounter. Rest assured, I've compiled an all-encompassing inventory of the finest snorkelling locales on the island.
But before delving into this comprehensive list, I'll equip you with some invaluable insights about the island itself.
A little about Antigua
Nestled within the Lesser Antilles, Antigua emerges as a diminutive Caribbean gem that surprises with its remarkable array of landscapes and activities to enjoy. Despite its compact dimensions, this island boasts a captivating array of activities from sailing the trade winds or hiking through its lush rainforest- oh of course and also snorkelling.
In the rainy season, you may get an occasional downpouring to then experience glorious sunshine for the rest of the day. It's wise not to alter your plans based on the weather here. Antigua promises an enchanting experience, even if you happen upon what the locals playfully dub "liquid sunshine."
Although renowned for its appeal to honeymooners and romantic couples drawn to its romantic vistas, Antigua's allure transcends. Its splendour beckons to all who encounter it, from the mesmerizing tapestry of its beaches to the awe-inspiring canvas painted by its sunsets. The island's treasures extend further, encompassing an array of captivating activities, delectable cuisine, and countless other delights waiting to be savoured.
Getting around Antigua
Optimal exploration of the island is facilitated by securing a car rental – a sentiment that prompts me to share my insights on getting around Antigua's roads in a blog post I wrote Driving In Antigua. Having had the privilege of residing on this island gem for over a year, I traversed its breadth and width, culminating in a collection of valuable driving tips that I'm confident will enhance your experience.
Should your accommodation deliberations leave you undecided, rest assured that my evaluations of the premier all-inclusive resorts in Antigua, as well as a curated selection of Villa options, stand ready to assist. Whether you lean toward the convenience of a resort or prefer an authentic local experience, I've meticulously assessed each lodging option across the island as a travel writer for Best Antigua throughout 13 years of love.
With these essential matters addressed, let's now dive in pun intended to where Antigua's finest snorkelling treasures await.
The best snorkelling spots in Antigua
In general, what makes Antigua excellent for vacationers i.e. the golden sand beaches and great weather also makes for lousy beach snorkelling. With shallow sloping beaches there is no visibility (VIZ for pros) just offshore where you are likely to be staying. However in general many beaches at the ends start to get some rocky areas where there is less sand and the snorkeling is worth a go. So do pack your own! You can find places to rent them but it's not always possible and the quality is not the best if you are not renting from one of the dive shops.
Let's have a primer on Snorkelling safety!
Respect the ocean and understand there may be some local currents. Antigua generally is a safe current wise close to the shore. But please assess your own experience and skill.
Try and have an ear out for boat traffic, jet skis are big risks. Having a submersible flag is not practical but we still mention it. Also, wearing a rash vest as the sun is burning through or on top of the water is easy as you won't feel the heat.
Learn to use your snorkel gear and invest in at least a mask. Fins can help you against the current but don't fight any current try to swim across one if you get caught in a rip. Getting to shore is the priority over where.
Snorkel with someone else, this should be mandatory if you are free diving as shallow water blackout is a real danger. If you only ever snorkel but want to try to go deeper I strongly suggest looking it up online before just trying to do breath-hold diving.
Keep hydrated
Tount touch anything
So that said let's get to some spots.
Deep Bay and the Andes Wreck
You may have excellent access to Deep Bay if staying at the Royalton Resort. Here you will see its bow protrude out almost centrally quite far out. It is a bit of a swim is the one downside. And the wreck is a three-masted sailing boat built in 1874 and sunk in 1905 in 33 feet of water, give or take. The wreck isn't deep and neither is the bay particularly. The rocks around the edges also provide further opportunities to snorkel. You will find the usual kinds of reef fishes drawn to their foodstuffs here and also turtles if you are lucky. Lobsters and arrow crabs and parrot fish circle around.
Half Moon Bay
DON'T VENTURE BEYOND THE MOUTH OF THE BAY for the currents and waves can take you into the rocks with great force. I don't want to scare you but perhaps be very adept at ocean swimming and recognise danger before going here. Inside the mouth of the bay, you can get some snorkelling in but it remains rough unless you hug the left side. As much as I love snorkelling I love waves so I would say I love this beach for swimming here too. It's also possibly quiet without facilities midweek, especially off-season. I often found myself ending up here. There is something very serene and lovely here.
Long Bay Beach
Long Bay Beach stands as a decent destination for snorkelling. Hugging the left end is the Pineapple Beach Club, a once-family resort that has undergone a recent transformation into an exclusive adult-only haven – a trend in resorts at the moment as its sister the Verandah also moves adult-only.
Embracing the vastness of Long Bay Beach in Antigua, the public's access stretches predominantly along its right flank. While it's worth noting that all Antiguan beaches are accessible to the public, the right side is the favoured domain of many beachgoers and is easier to park.
Venturing onto this side of the beach unveils a spectacular snorkelling experience, easily attainable just a short swim from the shoreline. As you venture beyond the boundary marked by the rocks, a captivating underwater realm reveals itself. The shallow reef gracing Long Bay Beach teems with a plethora of marine life – a vibrant congregation of diminutive, brilliantly hued coral fish, diverse sponge species, and graceful turtle grass.
Pigeon Beach
Around you will find decent amenities at this popular beach. Also, boat traffic will be looking out for swimmers but still be prudent. This is one of the calmest waters on the island and there is the excellent Catherine Cafe here. There is a wooden jetty to the left which holds fish and the rocks to the right near Bumpkins Restaurant are places to start your undersea viewing.
Galleon Beach
Galleon Beach resides as a secluded gem within the distinguished expanse of English Harbor. Its tranquil shores can be reached either by car or by embarking on a water taxi from Nelson Dockyard. See the beach here by drone.
This pristine beach boasts an air of enchantment, exuding intimacy amid its embrace. The sands are tender to the touch, enfolding a sheltered bay that beckons for leisurely swims.
An added delight awaits at the far reaches of the beach – a modest trail meanders amidst rocky terrain, guiding you to the vestiges of Fort Charlotte. This historical vantage point grants panoramic vistas of English Harbor, an exceptional reward for those who venture forth.
Make a note of the Pillars of Hercules here too (one of the very best snorkelling spots here), this is one way of access other than by boat.
Map
Beyond the rocky terrain, an underwater wonderland emerges in shallow waters, perfect for snorkelling enthusiasts. The area around a petite shipwreck teems with life – graceful tangs, vibrant schools of yellowtail snapper, majestic angelfish, and vigilant barracuda. Adding a touch of whimsy to the scene are the charismatic peacock flounders, playfully observing as they rest upon the sandy bed.
While relishing the embrace of Galleon Beach, consider allocating time for a venture into the heart of English Harbor. This elegant enclave invites exploration, with its historic edifices from the days of the British Harbor and an array of delectable dining options, enhancing your island experience.
Pillars of Hercules
The best shore snorkelling may just be here. Very high chances of seeing a turtle and occasionally glancing up to see the 'Pillars of Hercules' which is a remarkable limestone feature. The snorkelling here gets deep quite quickly be warned. The water isn't as calm as in other spots but there are some great fishes and a high chance to see turtles here. This video shows trumpet fish spotted eagle rays and parrot fish chomping the coral.
There are huge smooth boulders under the water like Hercules gave up and the land crumbled to the depths. Fish find homes between the boulders and sea fans wave their shapes at you.
This spot is popular with tours and we recommend a few that cover snorkelling here. And most are by boat. The other option is a powered sea scooter.
Cades Reef
Nestled within the expanse of Cades Bay Marine Park, Cade's Reef sprawls across two miles as a protective barrier reef, situated approximately a 20-minute boat journey from the southern shores of the island, directly opposite the opulent Curtain Bluff All-inclusive resort. Dive shops of the south and Jolly Harbour visit Cades regularly.
I have scuba-dived here many many times and can attest to the quality of fish you can encounter here. There is a slight possibility to see sharks but don't fear them they are very timid and will likely be high-tailing it away from you if you do. Other marine life you can find such as Moray eels, nurse sharks, lobsters, barracudas, and eagle rays. The corals are in a decent state here and add to the charm. I really don't understand why Antigua scuba diving gets slammed. If you do snorkel there are various spots among the length and you will be doing this as part of an organised tour I hope!
Renowned as a prime destination for snorkelling in Antigua, Cade's Reef, while not boasting the overwhelmingly intricate coral displays you might anticipate, nevertheless offers a rewarding aquatic excursion.
Prickly Pear Island
If you are staying at Hodges Bay this is for you otherwise you might find or arrange a boat some cruise ships offer this as an excursion. Hodges Bay guests have free water taxis. This tiny island is a place to relax indeed. The snorkelling around is good as the water resembles a swimming pool at times here such is the clarity. With the faf in getting there, it isn't high on this list and there are no amenities, however.
Meet The Author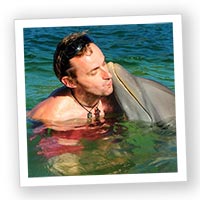 Calvin has loved the Caribbean since first visiting Roatan through loving Scuba Diving. From distinct cultures to common nature the Caribbean delights at every turn.
He hates leaving after any trip and has to console himself by writing and sharing articles and photos on it. You can find and connect with him on linked in here.

Likes
Travel, Gaming, Scuba Diving, Skiing and anything to do with water.

Dislikes
People who don't care, politicians doing nothing and needless competitiveness- oh yes and being tired in an airport.