If you wish to experience a luxurious and relaxing vacation in Antigua, Hodges Bay Resort would be the perfect Antigua resort pick for you.
Hodges Bay Reviews
Mentioned within the prestigious list; Best new hotels around the World in 2019 - Travel + Leisure
Located on the island's northern edge, this resort is a multi-million-dollar investment property that took almost 13 years to develop and cost 100 million! The staff at Hodges Bay are welcoming and polite and highly trained in hospitality. The facilities provided are top-grade (luxury), so you will feel that you have been given the royal treatment.
The resort attracts a lot of single, newly married vacationers and even families with young children as there is something for everyone here. The Hodges Bay team claims that by vacationing at this resort, you can have the calm that you have always craved, without depriving yourself of the fun that you deserve.
The Boonji Spaceman
We must mention this sculpture before anything else! A 22-foot spaceman created purposely for the resort by artist Brendan Murphy.
This has turned the resort into the place to come for a unique selfie opportunity.
Image credit- https://www.instagram.com/giantspaceman/
If you are interested in more about the Boonji Spaceman go here
Video
Rooms
At Hodges Bay, there are different types of rooms available in different price ranges. The rooms are spacious and the décor is inspired by bohemian comfort, keeping the design uncluttered, minimalist, and pleasing to the eyes.
Different types of accommodation available here are junior suites; suites, which are further divided into one, two, and three-bedroom suites; two rooftop penthouses with private pools and spread-out terrace areas; sophisticated luxury residences that come with a stunning ocean view and a fully-equipped kitchen; and exclusive villas that provide the guests with the ultimate residential experience.
Irrespective of the type of accommodation you choose, different amenities included with the stay would be minibars, king-sized beds, private balconies or terraces, free Wi-fi, coffee makers, and HD TV.
Activities
Food and Drink
While breakfast is included in the price of your stay, other meals and drinks are charged extra at Hodges Bay.
Restaurants, bars, and cafes
NaCL
This impeccable restaurant by the celebrity chef Edward Lee is the first signature restaurant in Antigua and is known for its innovative approach to conventional steak and other seafood dishes.
White Sands
This minimalist restaurant gives great bohemian vibes while overlooking the sea. It is a perfect spot for breakfast, lunch, as well as dinner. At the customer's request, gluten-free options are also provided.
Black Sails
Black Sails is a pirate tavern and tapas restaurant that's ideal for having a calm and relaxing dinner with your loved ones. It has an open-air bar and lounge that overlooks the ocean where you can just chill while having your favorite drinks or dance to the lively music that is played every evening.
Drift
Drift is a pool bar in Hodges Bay that serves some authentic Caribbean-inspired drinks and mocktails.
Pulse Café
For guests with a sweet tooth, Pulse café is the go-to place for some of the best ice cream, gelato, pastries, and personalized coffee.
Water Sports
Some of the most popular dedicated non-motorized water sports at Hodges Bay would be paddleboarding, kayaking, snorkelling, and raft-building. These sports are perfect for beginners as well as trained experts, as proper training and equipment are made available. Please note that snorkel masks, fins, and paddleboards are available at the resort for free to guests.
General
General amenities provided at the Hodges Bay resort would include a Cybex gym with the latest equipment, two tennis courts with a design similar to the US Open, juice bars, live music, and two pools.
Spa
Bohemian Spa
The bohemian spa at the resort offers its guests single as well as couples treatment facilities. There is also a sauna and a private pool for relaxation after you are done with your treatments.
Kids Activities
While there are two main pools at Hodges Bay, there are also mini pools for your kids to have fun in. Then there is also a kids' club with different games and learning activities to keep your children engaged for a couple of hours.
Entertainment
The entertainment activities at Hodges Bay are plentiful and engaging. Some of our favourite picks would be live music, DJ nights, and celebrity karaoke.
Location
Hodges Bay is situated on Antigua Island and is only 7 km away from the Antigua international airport and 850 meters away from the Salt Pond.
Prickly Pear Island is just offshore and can be rented out for private parties or functions such as wedding ceremonies. As a guest of the hotel, you can enjoy its peacefulness.
Getting there and away
We offer a great high-spec private transfer service for your group of any size from the airport. The ride is approximately 15 to 20 minutes. Taxis are available at the airport alternatively and there are no reliable busses.
Social Media
Meet The Author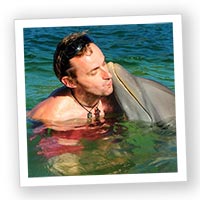 Calvin has loved the Caribbean since first visiting Roatan through loving Scuba Diving. From distinct cultures to common nature the Caribbean delights at every turn.
He hates leaving after any trip and has to console himself by writing and sharing articles and photos on it. You can find and connect with him on linked in here.

Likes
Travel, Gaming, Scuba Diving, Skiing and anything to do with water.

Dislikes
People who don't care, politicians doing nothing and needless competitiveness- oh yes and being tired in an airport.