First, let's have a few good points and bad points of Half Moon Bay.
Good Points
It's a natural area
It's a nice beach and good for fun swimming
You can get some food and drink at Smiling Harries or Beach Bum Bar, both highly regarded
It's easy to park like everywhere in Antigua
There are few if any beach sellers
Bad Points
There are no freshwater showers
There is not much shade
It's not toddler-friendly
The surf is considered rough for many
It can be tricky to find
There is no public transport
General Info and Review
There are no umbrellas or beach beds so bring a towel! Sometimes you will be able to rent umbrellas and beds but not guaranteed.
Half Moon Bay is perhaps one of the roughest beaches in terms of waves in Antigua (Galley Bay resort can be too). It's fun and nicely quiet. It does get busy with local Antiguans during the weekend. Towards the edges, there are some shady areas but you should come prepared to bake!
It's a bit of a drive from many of the resorts (the closest is nonsuch) and if you get here on a Sunday then try to plan it by going to the Roadhouse which is a restaurant/bar and music venue of choice.
There is a snack shop and Smiling Harries a restaurant further up where you can get most things you need. The area is interesting also for wandering. Walking around the left side you get a bit of a lower cliff bluff area where the waves crash in. To the right side, there is an abandoned resort.
It's not overly dangerous to swim here. Just respect the surf it's not so bad. It's not big enough for surfing or body-boarding unless you're a kid then you can have a lot of fun in the waves with a boogie board.
How to get there
You need to have a car or vehicle to get there via Freetown in the South East corner of Antigua.
Meet The Author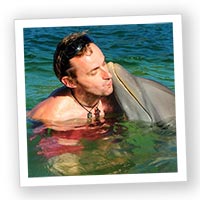 Calvin has loved the Caribbean since first visiting Roatan through loving Scuba Diving. From distinct cultures to common nature the Caribbean delights at every turn. Settling in Antigua with his family in 2014 he found the perfect island.
You can find and connect with him on linked in here.
Likes
Travel, Gaming, Scuba Diving, Skiing, and anything to do with water.
Dislikes
People who don't care, littering, antisocial behavior and needless wars.