Galleon Beach has one main downfall in that there is little parking available. However, once you are situated you will delight in the general beauty of the area and the calmness of the water. The beach is around a quarter of a mile in length and from the left side, you can walk around to snorkel Pillars of Hercules.
The beach is in the general English Harbour area and Shirley Heights Lookout looks down on the beach and bay below. Many yachts like to anchor up in the bay adding to the attractiveness. This is where you will find the hotel called the Inn at English Harbour (more on Booking.com on this hotel). The beach is confusingly also known as Freemans Bay so just remember that if you need directions. Galleon Beach Club was a small resort complex currently closed and available for investors to look at.
Snorkelling
For underwater enthusiasts, Galleon Beach offers excellent snorkelling opportunities. The nearby Pillars of Hercules are renowned for their vibrant marine life, allowing visitors to explore the captivating world beneath the waves. It is from here that you will set off if you book a Scooter Snorkelling tour. Many turtles are seen in this general area.
How to get there
Following Mathews Road southwards keep straight and then take a right turn further on. If you kept going you will get to Shirley Heights so follow the signage for the right-hand road and the Inn at English Harbour Hotel.
The Exclusive Feel: Unlike some of the more commercialized beaches in the region, Galleon Beach maintains an exclusive and laid-back atmosphere, making it a preferred spot for those seeking a peaceful retreat. Its limited development ensures that the beach retains its natural beauty and remains unspoiled by excessive human activity.
Pristine White Sands and Crystal Clear Waters: The allure of Galleon Beach lies in its pristine white sands and crystal-clear waters, inviting beachgoers to bask in the warm sun or indulge in a refreshing swim. The calm and gentle waves make it an ideal destination for families with children or those simply looking to relax by the shore.
Nelson's Dockyard: History buffs will find a treat at Galleon Beach with the nearby Nelson's Dockyard, a UNESCO World Heritage site. The restored naval dockyard, once the home of Admiral Horatio Nelson, offers a glimpse into Antigua's maritime past and colonial heritage.
Shirley Heights Lookout: A short hike from the beach leads to the iconic Shirley Heights Lookout, where visitors are treated to awe-inspiring panoramic views of English Harbour and the surrounding coastline. The lookout is particularly popular for sunset vistas and live music events held on Sundays.
Wildlife Encounters: Nature lovers can relish the opportunity to spot local wildlife around Galleon Beach. Keep an eye out for colourful bird species, such as pelicans and frigatebirds, soaring gracefully across the sky or nesting on nearby cliffs.
Water Activities: In addition to snorkelling Galleon Beach is ideal for paddleboarding and kayaking. These activities provide a fantastic way to explore the coastal beauty and create lasting memories.
There are 3 hiking trails in the area- The Jones Valley Trail and the Lookout Trail and Carpenters Rock Trail. A brilliant guide is here by Alltrails
Meet The Author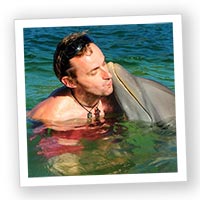 Calvin has loved the Caribbean since first visiting Roatan through loving Scuba Diving. From distinct cultures to common nature the Caribbean delights at every turn.
He hates leaving after any trip and has to console himself by writing and sharing articles and photos on it. You can find and connect with him on linked in here.

Likes
Travel, Gaming, Scuba Diving, Skiing and anything to do with water.

Dislikes
People who don't care, politicians doing nothing and needless competitiveness- oh yes and being tired in an airport.