The Galley Bay Resort seems to have found the right combination of location and top-quality service, with many customers returning year after year. It is not the most exclusive of the properties you can find but it has more than its fair share of luxury moments. There are no bad beaches on Antigua but this is one of the better beaches and practically difficult to be used by the public. Galley Bay Resort is a popular choice for getting married, so why not tie the knot in Antigua? One of the higher-rated Antigua resorts.
About the Galley Bay Resort & Spa
This is an adult only hotel, with a focus on customer satisfaction, according to the reviews. It is said that the staff greet customers by name and remember minor details that can really make your stay special.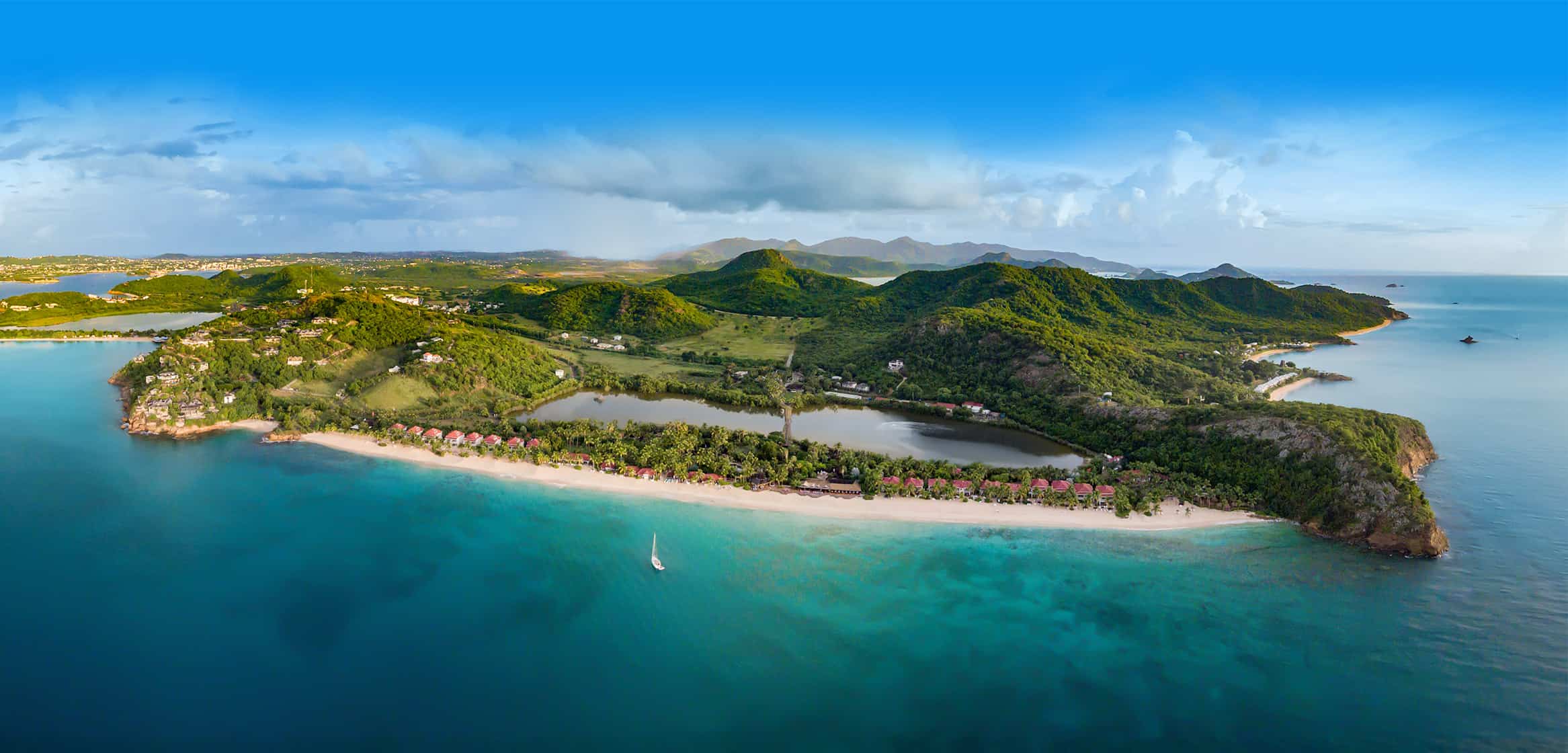 This resort appears to be a favourite with couples, honeymooners and those celebrating birthdays and anniversaries, which is probably due in no small part to the customer's reviews of the service and attention to detail mentioned above.
Of interest, if you are sporting, there is a range of fish in the lagoons to the rear croquet and tennis among many other pursuits. You could borrow a bicycle to explore this natural and beautiful part of Antigua. Not far away is the Hawksbill Resort with 5 other beaches one of them Eden Beach (clothing optional) if you want to explore. An onsite spa is available with a range of local ingredients.
Accommodations
There are on the beach rooms or garden rooms (Gauguin suites). Style is beach style with wooden furniture and light decor. An airy feel very typical for comfort in Antigua is apparent. Spacious bathrooms and powerful showers help you dust the beach off after a sun-kissed afternoon or morning. You might have been somewhat active from the yoga classes too.
The rear of the rooms is serviced by the morning sun - enjoy your coffee or tea with nature all around. The front of the property is on the beach. You can get an upstairs or downstairs room either way the location is amazing.
Dining Food and Drink
Upscale Isamy's is fine dining with a surcharge of great wines and extra interesting dishes such as lobster, fillet steak and a great wine list.
Seagrape - breakfast lunch and dinner, footwear required and beachwear must be covered and respectable. For dinner, you should wear a collared shirt and long trousers. Food is à la carte apart from a weekly buffet.
Gauguin's - named after the artist a colourful range of dishes and offers romantic secluded seating on the beach.
Barefoot Grill - relaxed burgers and sandwiches.
Bars Rum Shack and Cocktails are plenty with poolside service.
Pool
The pool is of a lagoon-shaped design allowing you a private oasis within a tropical setting that has soft furnishings and is serviced for your enjoyment. A waterfall provides white noise along with the nature that the resort has omnipresent.
Booking

Expedia offers room-only or vacation packages from an airport near you. With many benefits to booking through Expedia not least security.
See our deals page now.
Reviews
Deidre C-

Travelling as a a couple April 2019-

"This is definitely a nice size resort loaded with peace and tranquillity which caters to Adults. I consider this location as my Oceanview paradise. They have a nice selection of Ocean Front and Oceanview rooms and restaurants. The spa is a definite must. They have everything you need from a gym, classes, beach, pool with cascading waterfalls, bars, tennis courts and the list goes on. The staff is very friendly and accommodating. Strongly recommend."- source Trip Advisor
Suefairy-
Travelling as a family April 2019-
"My husband and I spent our honeymoon at Galley Bay 17 years ago and it was wonderful. We were on a cruise last week and visited Antigua so I phoned in advance and asked if we could have lunch at Galley Bay. We were welcomed with our friends and family. Peter and Bridesphine looked after us beautifully and served us a fantastic lunch and drinks. Thank you so much, it was very special to return. We will be booking another holiday at Galley Bay very soon." - source Trip Advisor
Click here for average reviews

Click here for bad reviews

Videos
Location Map
Getting to Galley Bay Resort from the Airport
You can book our safe friendly private airport transfer Galley Bay Resort Transfer >>
If you have disabilities then there are two adapted rooms near reception with grab rails a raised toilet and a wheel-in bathroom.
Galley Bay Resort Day Passes
If you are not staying at the resort you can still take a day out and experience the resort facilities yourself with a day pass.
There is a single all-inclusive option but states use of the bar lunch and facilities which costs Winter $172 vs $144 in Summer per adult. Your day pass is valid for 10:30am to 6:00pm.
Social Media