Dickenson Bay (Dickenson Beach) is a very popular spot for vacationers as it is a superb family-friendly beach with great facilities, such as some of the best all-inclusive resorts and restaurants and a floating tiki bar. It is a popular spot for cruise ship passengers so it is probably one of the few beaches to get 'busy'.
Boy! I sure lucked out as my first ever experience of Antigua was Dickenson Bay and the then Halcyon Cove Resort which is now getting rebuilt bulldozers and all. It's a bit of a shame as the corner of this bay was a very special spot in the world. Money has no limits, shamefully this is now getting developed; forever removing the far northwest 'corner'.
There have been many Cricket legends of the game staying here in the old Halcyon resort and enjoying wandering past the old dive shop shack! I met the likes of Ben Rohrer Philip De Freitus and Ricki Ponting. I am sure the next-door neighbours Sandals would have loved to have the land option and extended the resort up to the corner. The Halcyon and land were held by the government and leased out to Rex Resorts for many years.
Onto the rest of the beach, let us just take a look at the map which here is the top left corner of Antigua.
Location Map

Sandals Antigua is just after a bar restaurant and water sports outlet heading south. This is the all-inclusive Sandals style. Don't let anyone tell you otherwise there is no such thing as a private beach! And anyway it's unlike the Antigua spirit.
Looking south at Sandals- just another beautiful evening in paradise!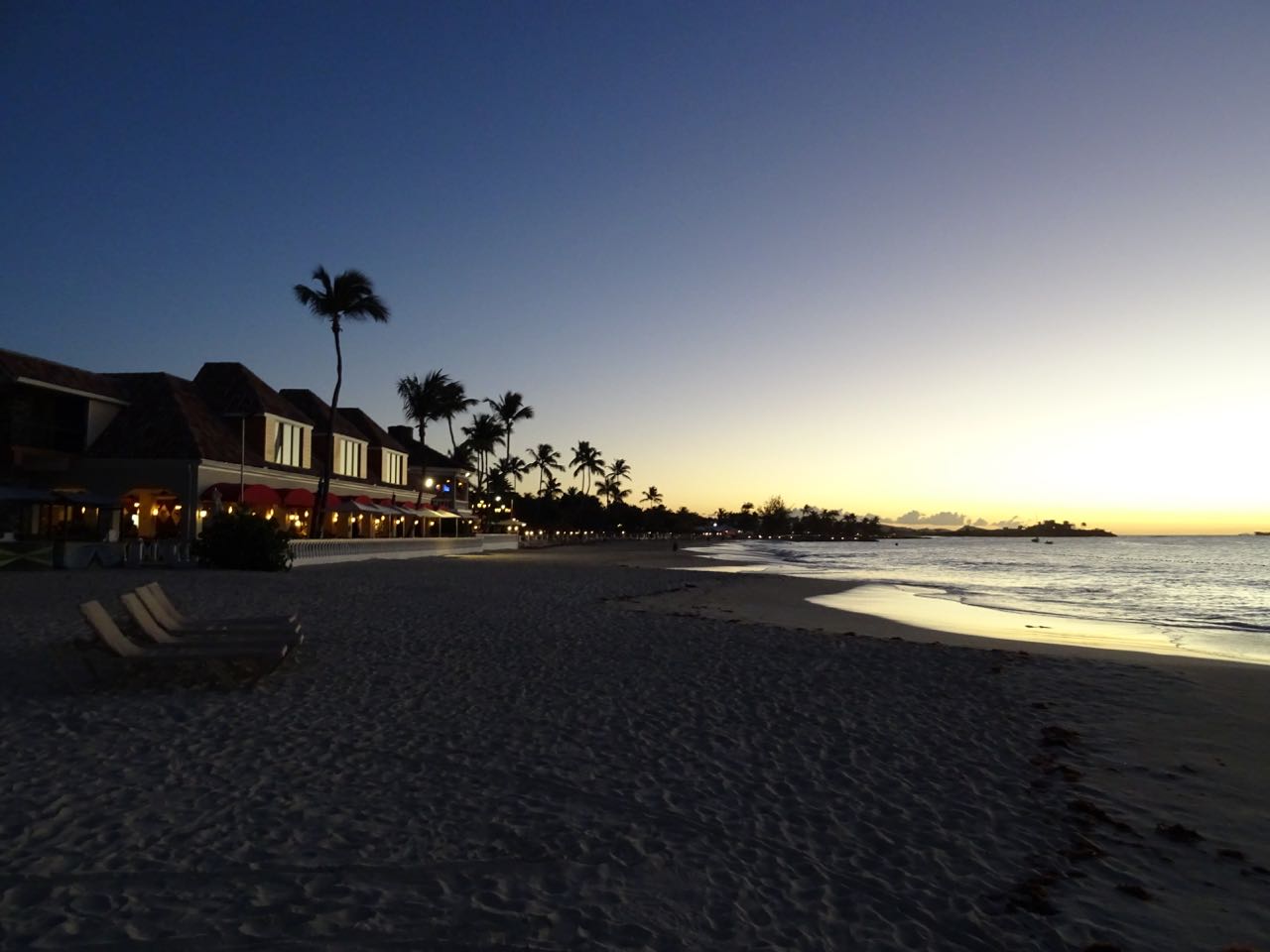 Just past Sandals is Ana's on the beach- one place to get those Insta famous shots.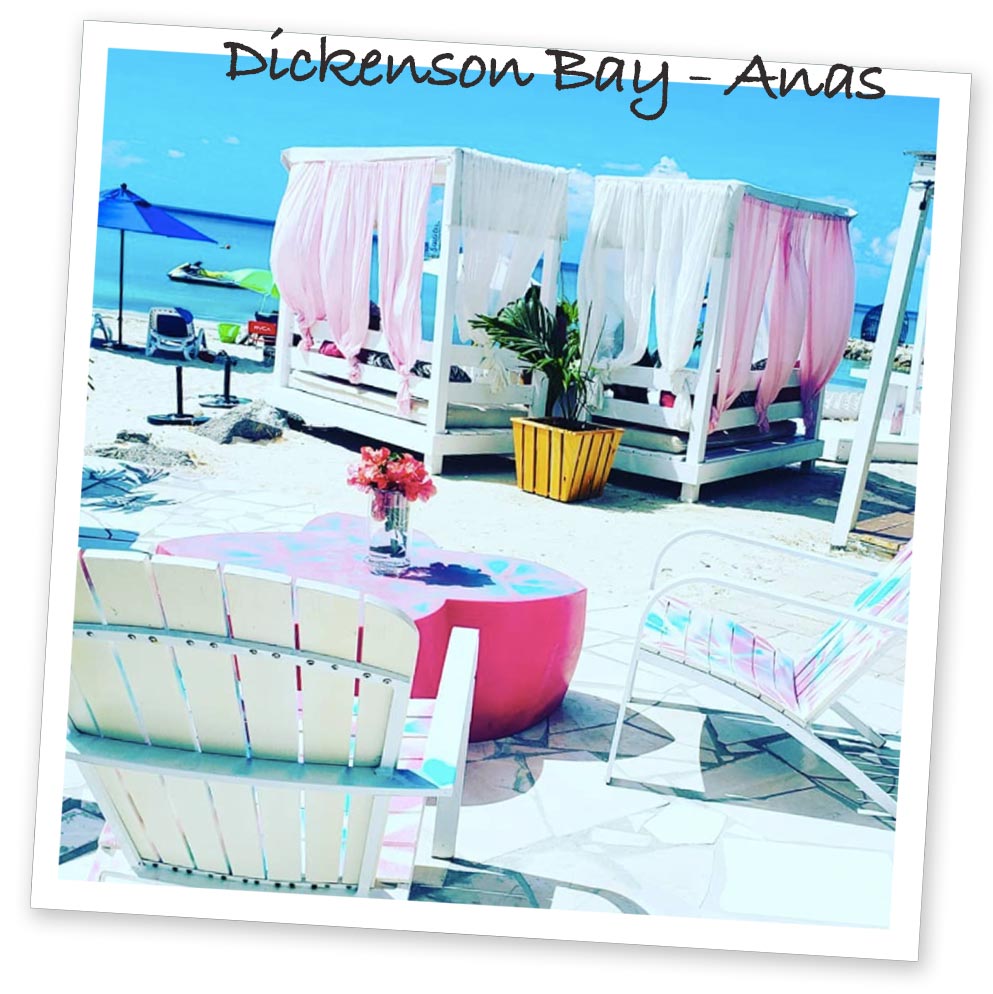 If you want to enjoy Dickenson Bay with lobster and rum punch then look below for the lobster tour found on Viator. Great freshly cooked lobster and rum punch on one of the world's best beaches.

Continuing along there is Siboney Beach Club described as a boutique beachfront experience. Guests can use the beach furniture for free. The beach is lovely here with pleasant gardens. Offered as an alternative to the all-inclusive resort it can suit adventure travellers and in some cases families. They have a nice garden, pool and gym. This accommodation option can be further explored on their own website here.
How To Enjoy Dickenson Bay?
If you are arriving by cruise ship taxis are inexpensive and you can rent umbrellas and beds. With plenty of options for refreshments, it's a good day out. The water here is very clear and the waves gentle as this is the Caribbean side. There are only a few rough beaches in Antigua!

The Tiki Bar is a floating bar! The only one in Antigua. A fun place to dive in and meet new people from around the world. This is towards the southern end just look for the free boat taxi!
It's worth mentioning that there is a very nice boutique business resort called Tradewinds just up Anchorage Road (head uphill) and also a good amount of private villas you can rent. For other rentals, you can find some in this interactive map of the area and get prices direct from Booking.com
Tiki Bar Antigua (Floating Bar)
Meet The Author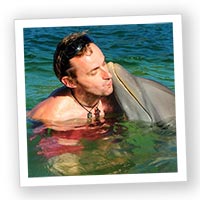 Calvin has loved the Caribbean since first visiting Roatan through loving Scuba Diving. From distinct cultures to common nature the Caribbean delights at every turn.
He hates leaving after any trip and has to console himself by writing and sharing articles and photos on it. You can find and connect with him on linked in here.

Likes
Travel, Gaming, Scuba Diving, Skiing and anything to do with water.

Dislikes
People who don't care, politicians doing nothing and needless competitiveness- oh yes and being tired in an airport.