For those seeking Antigua's finest all-inclusive getaways, your search ends here with this compilation of the premier all-inclusive resorts and boutique hotels in Antigua.

Header image courtesy of Hammock Cove
Table Of Contents
Royalton - Curtain Bluff - Hermitage Bay - Carlisle Bay - Jumby Bay - Sandals Grande
With a decade and a half immersed in Antiguan life, including personal visits to every resort, established connections with resort managers and a continuous engagement with the island, this review is candid and precise. Check out my author bio at the conclusion for more information.
Renowned as a favoured Caribbean destination for couples and honeymooners, Antigua captivates with its sophisticated romantic retreats, secluded shorelines, and delectable Caribbean cuisine.
Indeed, Antigua's all-inclusive establishments transcend the ordinary, standing at the forefront of excellence and contending to provide unparalleled guest experiences.
Determining the ultimate Antiguan resorts is a sizeable task. Nevertheless, within this guide, I aim to offer a comprehensive overview of each hotel's offerings.
Within this article, I'm imparting all my personal knowledge and insights about Antigua's all-inclusive resorts, aspiring to furnish an informative guide for your forthcoming visit.
1 Royalton Antigua
Experience the allure of the Royalton Antigua Resort & Casino, where luxury meets paradise.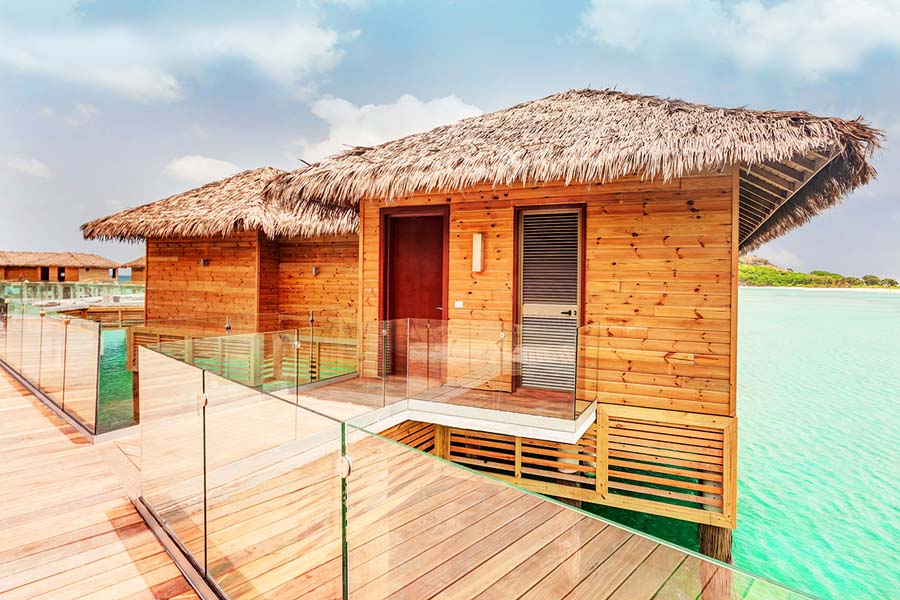 Introducing the Royalton over-water bungalow, an epitome of lavishness (one-of-a-kind room always booked well in advance) nestled within this exquisite resort.
If the mere thought of reclining in an overwater bungalow in the Maldives has occupied your daydreams, then brace yourself for delightful news – the dream is attainable without traversing the globe! The Royalton Antigua Resort & Casino brings this fantasy to life, eliminating the need for far-flung travel.
What sets the Royalton apart, solidifying its reputation as one of Antigua's premier all-inclusive resorts is the inclusion of the coveted overwater bungalows. These remarkable accommodations redefine luxury, offering an experience beyond compare.
Immerse yourself in the luxurious embrace of each overwater bungalow, thoughtfully appointed with an array of amenities to elevate your stay. A suspended overwater hammock invites you to sway in serenity, while an infinity plunge pool beckons for refreshing dips with breathtaking views as your backdrop. To cater to your every desire, a personal butler stands ready to provide impeccable service throughout your stay, ensuring your experience is nothing short of extraordinary.
Can you imagine anything more idyllic? This is not merely a stay; it's a reverie transformed into reality.
Fear not if the budget or bungalows are not available. There are suites to accommodate couples and families alike. Yes, this is a family resort too! Plenty of kids' playing areas and expansive resort grounds.
Additional Details
- 7 different places to eat including cafes
- Large pool
- Own brewery
- Tons of activities
- All-inclusive
- Short transfer of 30 minutes from ANU Antigua International Airport
- Set on an amazing beach Deep Bay (don't worry it's not) is featured as one of the best snorkeling spots in Antigua
2. Curtain Bluff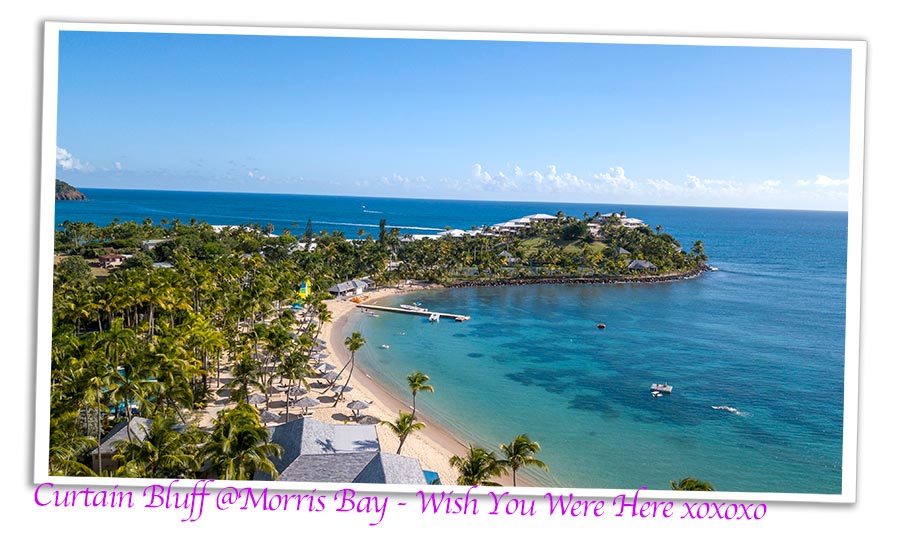 Curtain Bluff stands as a true testament to the essence of exclusivity, boasting an exceptional claim as one of the world's rare 100% all-inclusive retreats. Distinguished by its impeccable service, culinary excellence, and a diverse range of complimentary activities spanning from exhilarating diving experiences to invigorating tennis matches and beyond, the resort's offerings are unrivalled in their generosity.
Guests find themselves not only catered to but lavishly pampered, creating an irresistible allure that beckons them to return year after year, unable to resist the allure of such unparalleled indulgence.
Following an extensive refurbishment during this year's closure period, in October 2023, Curtain Bluff will unveil several refurbished suites, and a newly expanded wellness area, further elevating its current health and wellness offerings (state-of-the-art tennis, pickleball and watersports facilities), and an area exclusively available for adult guests.
Elevating the enchantment, Curtain Bluff enjoys a strategic and picturesque setting. The Caribbean-inspired suites gracefully rest along a majestic bluff, gracefully overlooking the cerulean expanse of the Caribbean Sea. These luxurious abodes provide an unparalleled panorama, granting guests the privilege of captivating vistas from both sides: a stunning ocean view and pristine beaches that stretch to infinity.
Enriching the experience further, the resort boasts a repertoire of indulgent amenities. Two inviting swimming pools beckon for relaxation, a luxurious spa promises rejuvenation. The resort's commitment to culinary excellence is evident through its impressive wine cellar and two distinctive restaurants, where palates are taken on a journey of refinement.
At Curtain Bluff, every element seamlessly intertwines, creating an oasis of luxury and leisure that remains etched in memory long after departure.
Additional Details
- Exclusively for everyone!
- Close to Cades Reef a marine park great for snorkelling
- CEE BEE Kids Camp
- Amazing luxury and value
- All-inclusive amenities
3. Hermitage Bay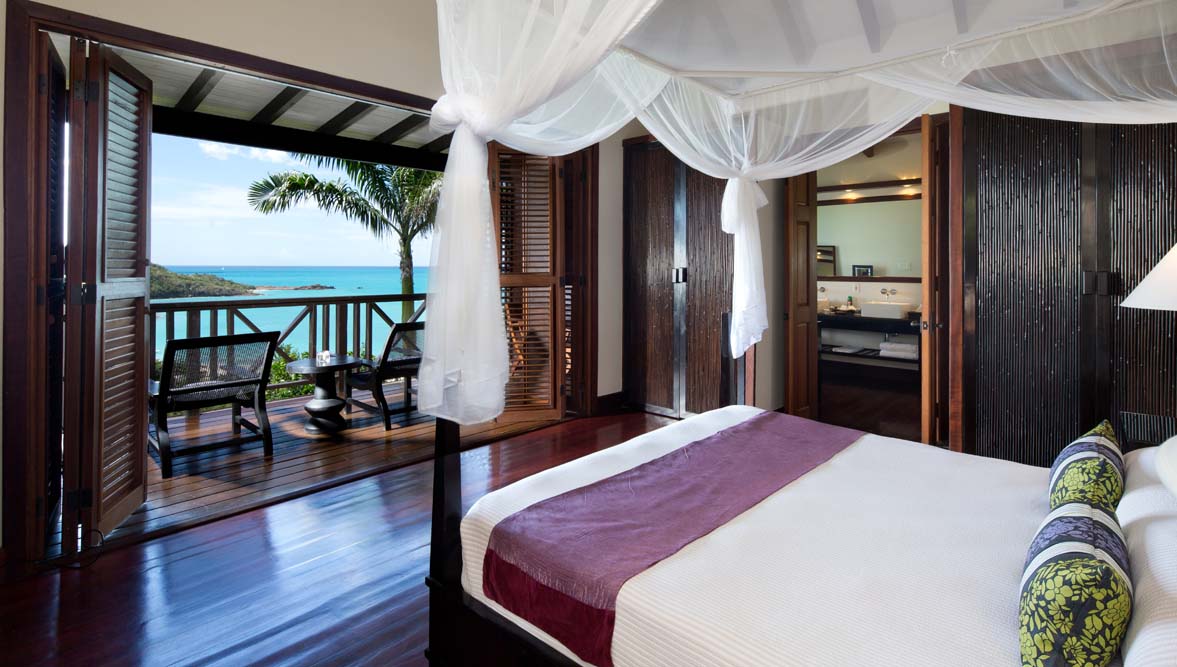 Hillside Pool Suite - courtesy of Hermitage Bay
Discover the idyllic haven of Hermitage Bay, a sanctuary tailor-made for romantic getaways.
Within Antigua's realm of opulent resorts, Hermitage Bay takes a distinguished place among my personal favourites.
Nestled in a secluded bay just behind the Jolly Harbour Marina, this retreat boasts an intimate collection of 30 suites. Seventeen of these nestle along the hillside, ensconced in lush vegetation that frames stunning vistas of the turquoise bay. Meanwhile, 13 suites grace the beachfront, providing proximity to the main facilities and the soothing waters, all while ensuring cherished privacy.
A prevailing motif of sustainably sourced wood, hailing from the well-managed forests of Guyana, infuses the property with a pervasive sense of organic luxury. The suites exude an understated yet refined ambience, with pristine white linens harmonizing against the rich dark wood floors. Each suite is graced with top-tier amenities and features a private plunge pool on the terrace, overlooking the picturesque bay.
As I pen this description, I can't help but imagine myself immersed in that very pool, indulging in a glass of champagne (or perhaps opting for a more rustic, yet equally delightful, fruit juice) while gazing upon the breathtaking bay.
And let's not overlook the dining experience, a true masterpiece in its own right. The menu is a fusion of international flavours and delectable Creole cuisine, often crafted from locally sourced vegetables grown right on the property. For those with specific dietary preferences, rest assured—vegetarian-friendly and gluten-free options abound.
More than just a resort, Hermitage Bay espouses a philosophy of cherishing a naturally wholesome environment. This ethos extends to the well-being of both guests and staff, manifesting as an uplifting atmosphere that pervades every corner of the property.
Indulge in rejuvenating therapies at the Garden Spa, where luxurious organic treatments are complemented by the ethereal beauty of the surroundings. The experience is as restorative as it is invigorating.
For me, this destination embodies a realm of dreams, and I eagerly anticipate the day I can revel in its pleasures firsthand.
Additional Details
- Exclusively for adults
- All-inclusive amenities
- Arrange watersports, private candlelit dinners, tours, and airport transfers included through Hermitage Bay.
4. Carlisle Bay
Another prime example of a Caribbean family resort at the high end is Carlisle Bay. Carlisle Bay emerges as the ultimate high-end destination tailor-made for a perfect family getaway.
I was lucky enough to sample Carlisle Bay, where I was truly impressed by the refined ambience characterized by pastel hues and a contemporary design that graced the spacious accommodations. These rooms were adorned with the most exquisite features and amenities, elevating the overall experience. There are 87 suites in total perfect for families with space enough to enjoy. The suites range from 72 to 150 square meters.
The extensive beachfront, accompanied by the gentle and shallow sea waters, creates an idyllic setting for both children and adults to relish peaceful swims. This abundant tranquillity extends to the dining options provided by the resort's four restaurants, presenting an array of superb choices spanning local and international culinary delights.
While renowned as one of the finest all-inclusive resorts in Antigua, Carlisle Bay also offers the flexibility to opt for a Breakfast plan should it better suit your vacation preferences. This option proves particularly advantageous if you're not inclined towards extensive eating or drinking. This selection also grants you the freedom to explore various dining establishments scattered across Antigua. You can discover what is close by in the south here or the southwest which is a little closer. Jolly Harbour is a spectacular coastal drive for adventure as is the other way into the Antiguan rainforest.
The beach and bay are very picturesque a naturally sheltered bay giving slight ripples only here and the loungers are very high quality too.
Situated within a serene enclave of the lush garden, the wellness centre serves as a haven for rejuvenation. Within this sanctuary, you'll find a spa offering calming massage therapies, a yoga pavilion catering to private or group sessions, and a fully equipped gym. The resort boasts one of the best tennis facilities on the island. Of course, this is the place to consider if you like 'a hit'. These offerings present a comprehensive rejuvenation program for those seeking holistic revitalization, tailored to their desires.
Additional Details
- Festive specials, join them for Christmas day on the beach!
- Private boat charters on their own boat, sample the coral and fish snorkelling off Cades reef.
- Organised nature walks
- Pilates and Yoga
- Excellent tennis facilities
5. Jumby Bay
Situated on a secluded island, just a 10-minute boat ride away from the Antiguan coastline, lies the remarkable Jumby Bay resort. This splendid luxury establishment boasts an arrangement of 40 suites strewn across a meticulously maintained garden spanning 300 acres of land, accompanied by an ensemble of 15 private villas.
Positioned as one of the most exclusive and opulent resorts in Antigua, Jumby Bay offers an ambience akin to inhabiting your very own private island sanctuary. Indulge in the culinary excellence presented by the trio of international restaurants, bask upon the shores of sandy beaches that cater to guests of all ages, and partake in an array of water-based activities that cater to diverse preferences. Dogs and cats are also welcome!
The hallmark of the hotel is its unwavering commitment to delivering extraordinary personalized service. This bespoke attention commences from the moment guests step foot at the airport and persists until their departure, ensuring a pampered and seamless experience.
Formerly under the ownership of Rosewood Resorts, Jumby Bay has since become an integral part of the esteemed Oetker Collection, renowned globally for its unparalleled standards of luxury and sophistication.
For those inclined to indulge, the option of private villas complete with dedicated butler services presents itself as the epitome of lavishness—an impeccable choice for an extravagant escape. Jumby Bay remains popular with celebs and sports superstars who look for a world away from the cameras, except perhaps their own for Instagram.
Additional Details
- Onsite Spa with treatments healings and remedies
- Organise a romantic private picnic on Pasture Bay a remote northern beach
- Three pools where you can relax or swim laps
6. Sandals Grande
Located in one of the most touristed areas of Antigua is Sandals Grande. Dickenson Bay Beach is yet another world-class beach- Antigua has so many.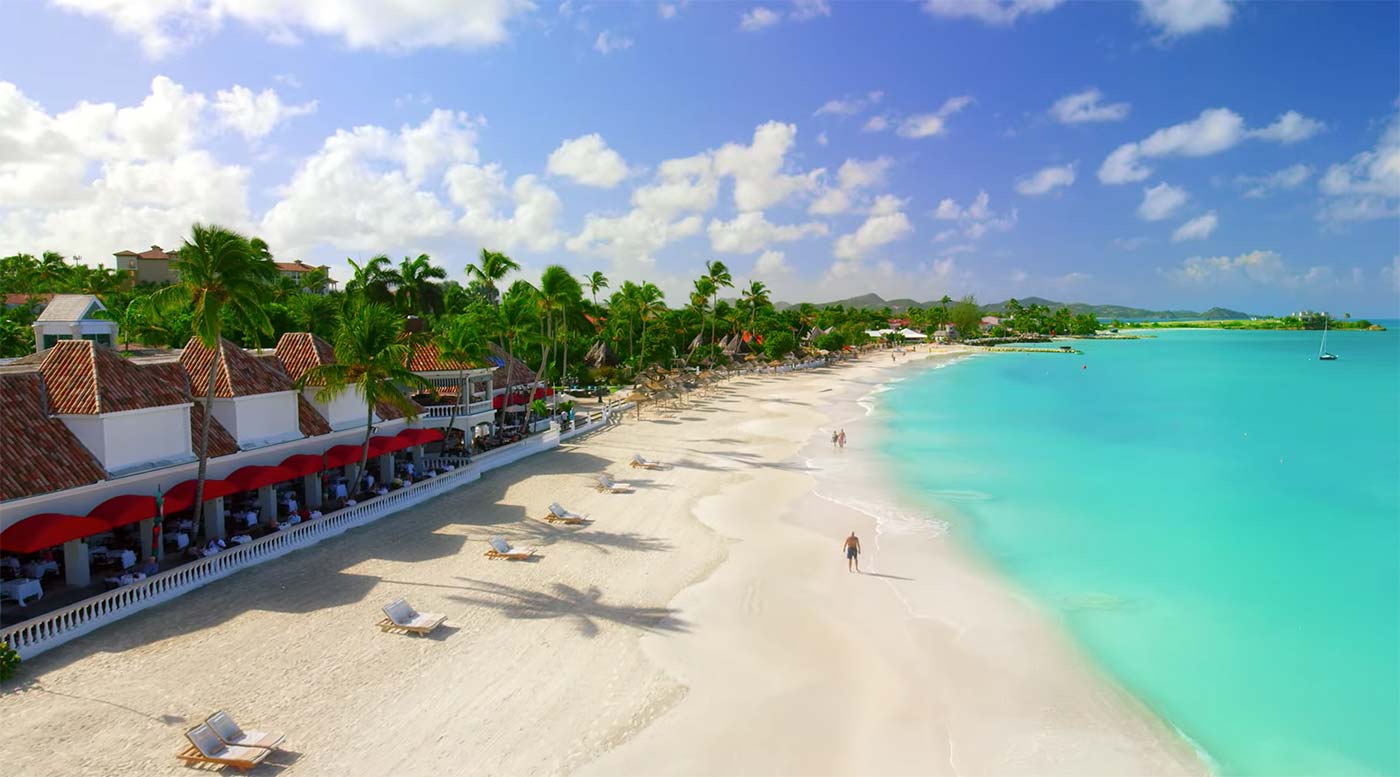 This popular resort is on the busier side of things. Some people like to be around the atmosphere and Antigua for some feels too quiet. Sandals even in low season will be animated you can be sure. Staying here expect the typical Sandals experience which is good service amenities and fun.
The resort is divided into 2 themes Caribbean Grove and Mediterranean Village.
Sandals does well in numbers; 11 Restaurants, 6 pools, Red Lane Spa, PADI Dive Centre and Tennis.
Sandals Antigua Video
Additional Details
- Included PADI Scuba diving and water skiing
- Couples Only
---
Meet The Author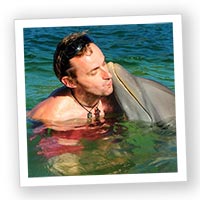 Calvin has loved the Caribbean since first visiting Roatan through loving Scuba Diving. From distinct cultures to common nature the Caribbean delights at every turn.
He hates leaving after any trip and has to console himself by writing and sharing articles and photos on it. You can find and connect with him on linked in here.

Likes
Travel, Gaming, Scuba Diving, Skiing and anything to do with water.

Dislikes
People who don't care, politicians doing nothing and needless competitiveness- oh yes and being tired in an airport.