We were staying in Jolly Beach area in fact at Jolly Beach Resort – take a look at our review of the all-inclusive where we garnered our impressive stats at the start of this series. It was so good that I had to work a little imagining hooking into a big tarpon to drag myself away. Jolly Beach was where we started our fishing right out in front of the resort see Antigua Fishing Map 1. There was ample space to get away from the swimming area marked out (so that the jet-ski's don't run you over I suspect). All of a sudden the river spinning gear felt very light!
Using 15lb Braid and similar leader we might have had some lighter fish like smaller barracuda or snook and zero chance of Tarpon. When we started it was already getting darker and we probably fished for a 45 minute stint– we didn't move far up the beach. I just felt there was very little in the way of features on Jolly Beach so I needed to attract with repeat casting and noise to the immediate area I was covering.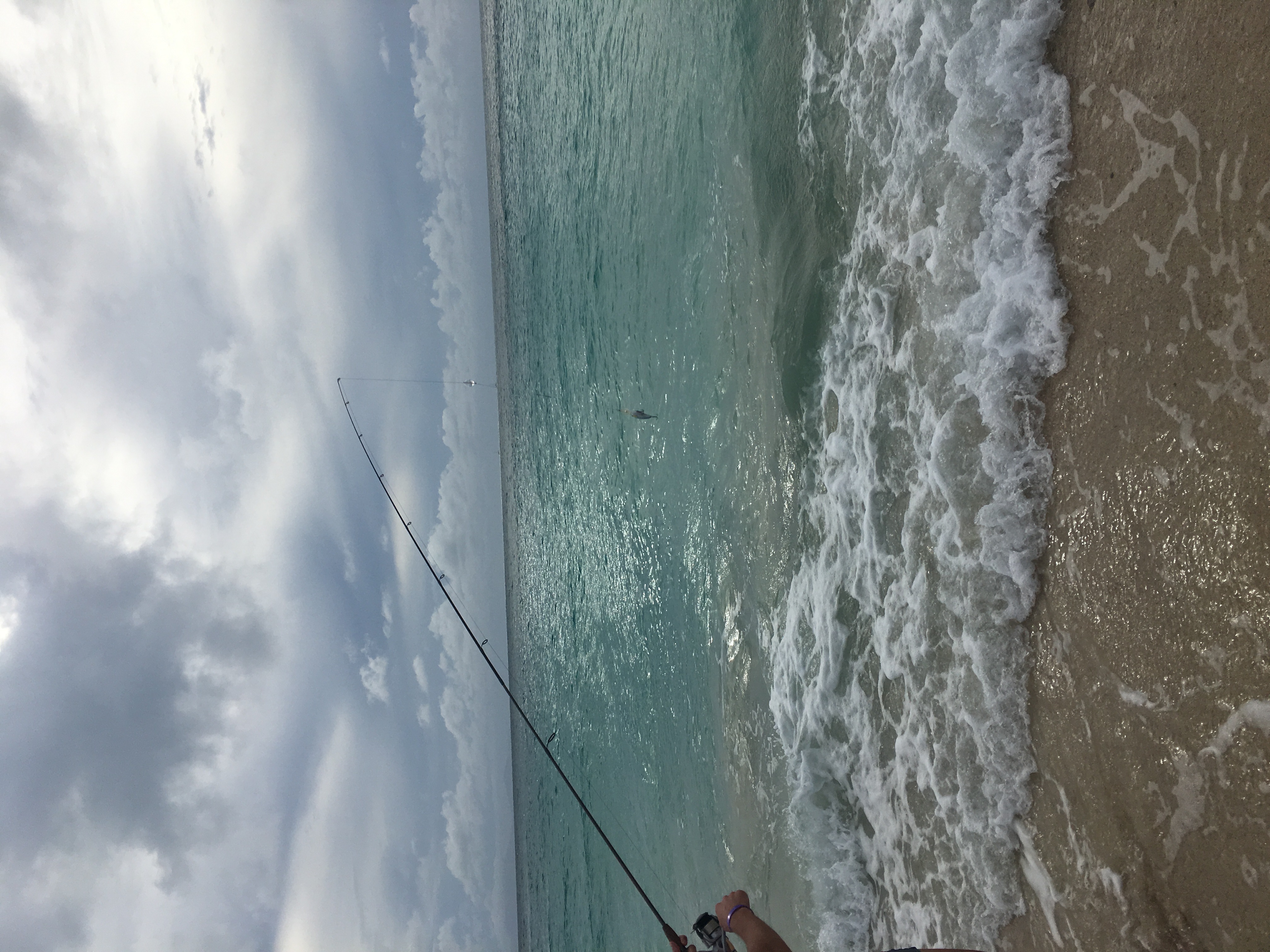 No hits or activity was observed in the water (that was a little strange even the smaller followers or needlefish should have come for a look see). But it was still quite exciting to be out there finally in the surf – it was a very new feeling for me and a weeks worth of fishing to be had – good times I will never forget! I was able to get out I estimate 20-30 yards but I wanted to get further.
We had some locals advise us to try deep fried chicken which I might have done had I not been spinning or casting so hard anyway. And another day we did but now we hooked into the rods eye and tightened down and went to our room still optimistic.
Antigua Fishing Map 1
The area of beach just out in front of Jolly Beach Resort provided our 'home spot'
There are more swimmers towards cocos and I always try to avoid hooking them.."
On the first 'full' day of fishing exploration limited by exposure on purpose (need to buy a buff!) I had my closest moment with a tarpon ever. We drove with the intent to find some of the brackish waters that cover this part of Antigua with regularity. You can smell the tarpon round here.
First up we went to Ffryes beach but not on the main beach. There is a Laguna of the brown ugly kind which I wanted to cast into in fact it is so close to the main beach between the resort of coco bay and Denny's restaurant. I did end up trying both the beach (Coco bay aka small FFryes beach) and out to the point towards Dennis Bar. There are more swimmers towards cocos and I always try to avoid hooking them. As you venture towards the point you can see into the small waves at the edges and I really thought we would spot some needlefish or barracuda in the clear water.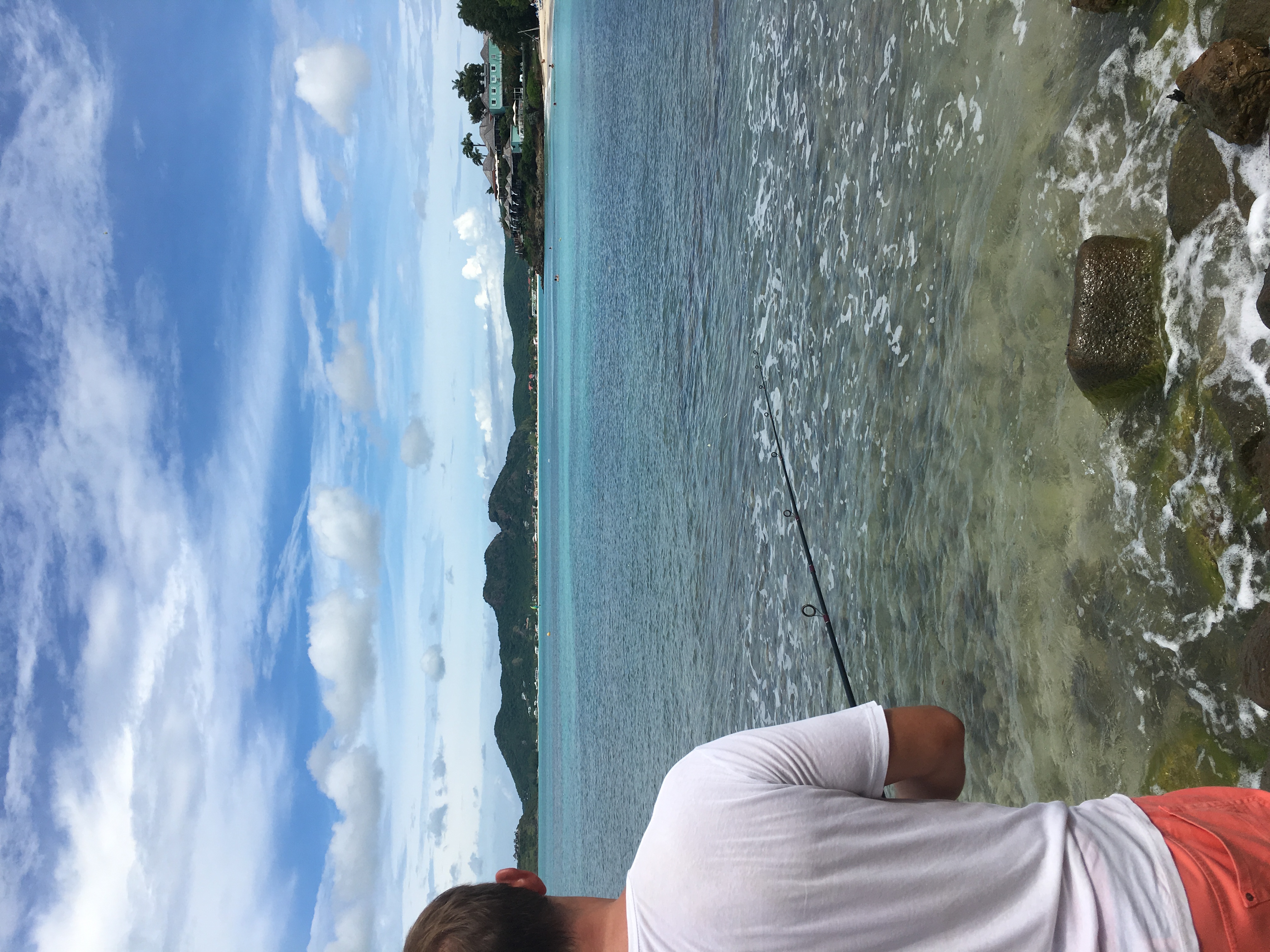 The beautiful coastline of Antigua- catching fish not essential.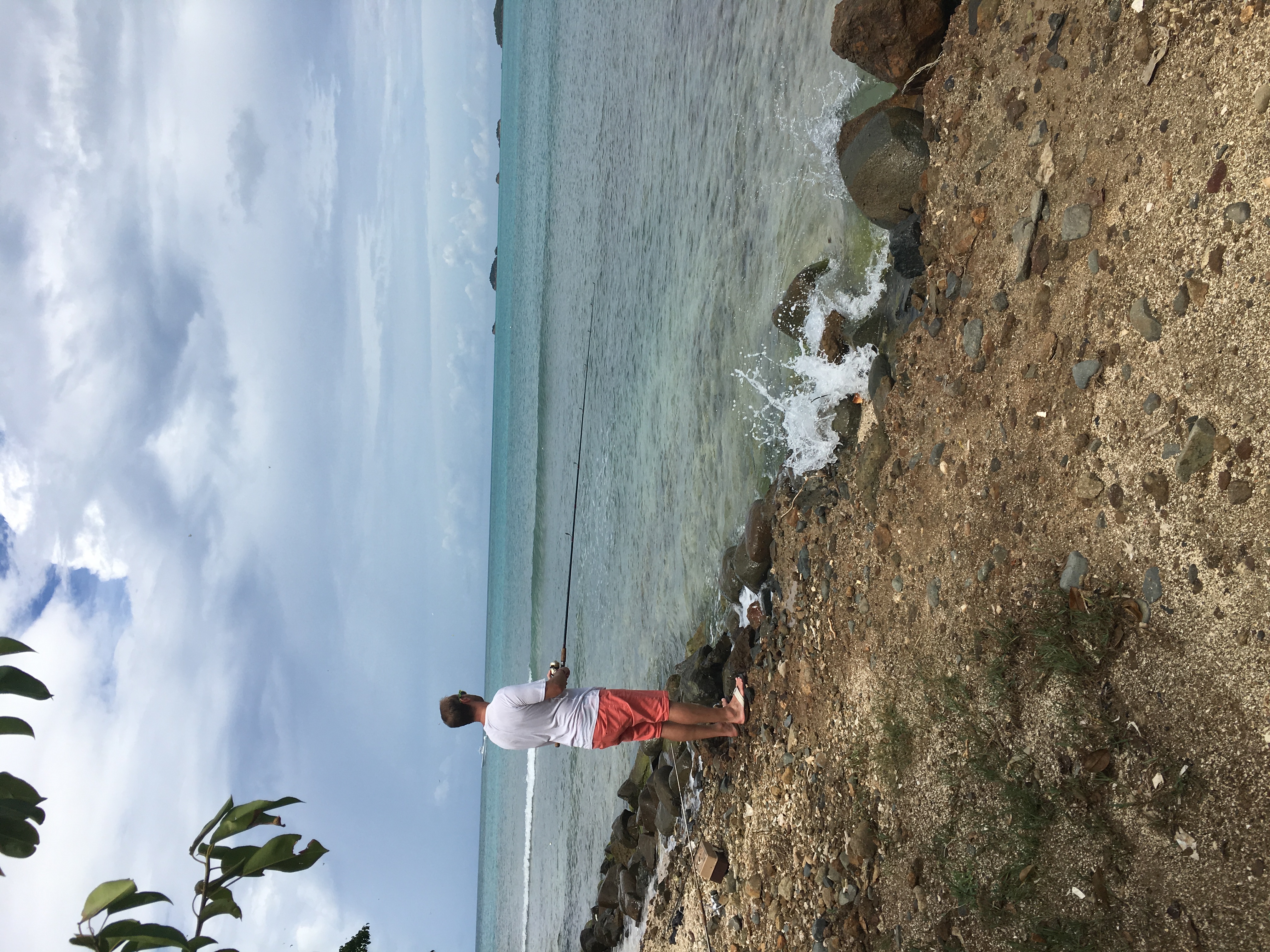 Some areas are very easy to access.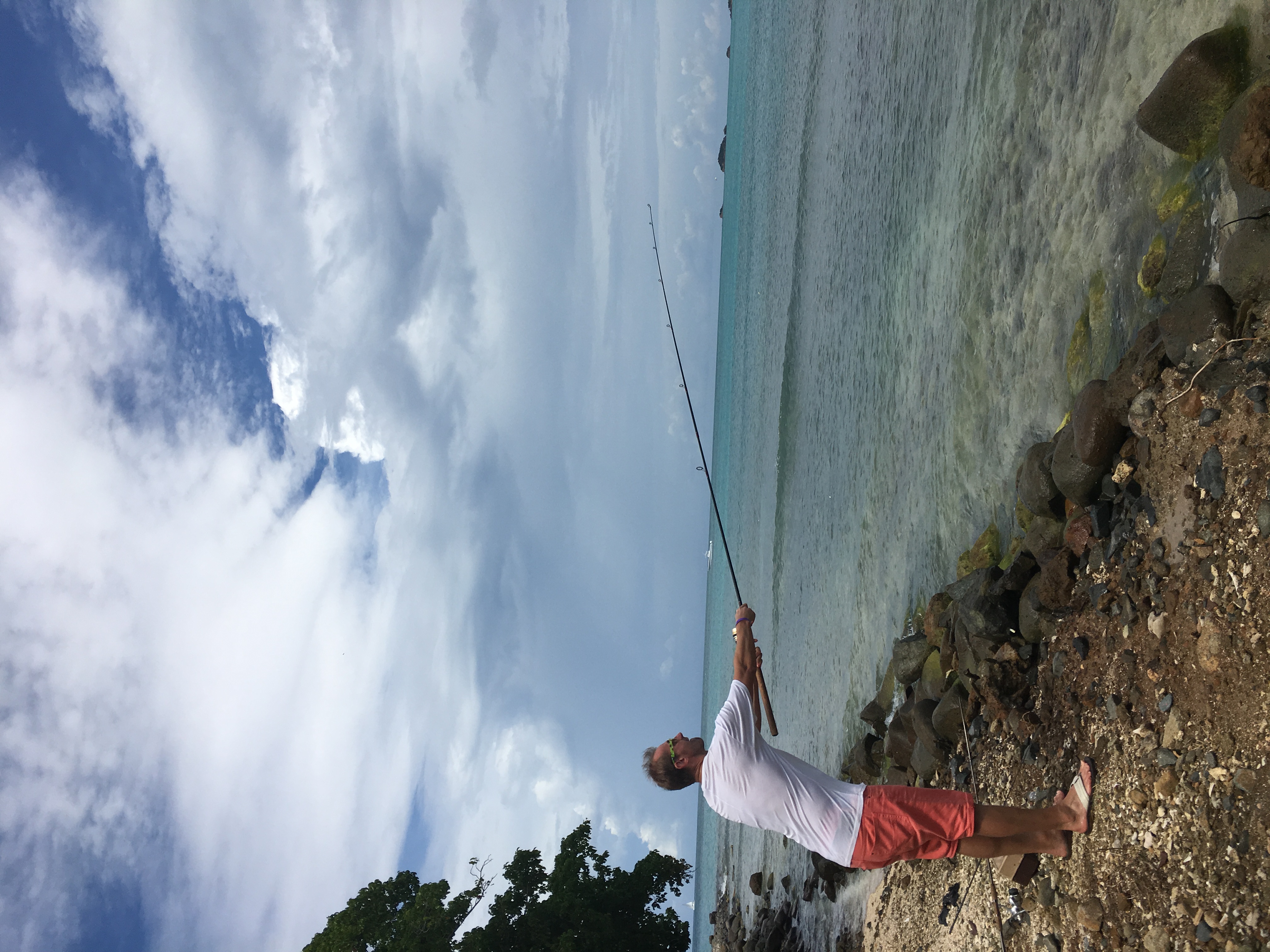 Possibly a bit shallow to be of interest to most fish.

There were rocks you see different to the Jolly Beach area. Sanchia also fished a bit but the idea of the beach won in the end and she ended up doing the beach thing watching me a bit and the Antigua beach crabs kept her company.
Actually it wasn't just the crabs ! As she calls them Flutterbies en masse came by its a nice video
Antigua Fishing Map 2
Coco Beach and the point out towards Dennis Cocktail Bar provided the first real shore fishing test. A short try of the dark area under the 'ch' or the Coco Beach is the Laguna that was fished until the thunder scared me off.
This time I kept moving towards the point after a good time spent covering the corner the water getting deeper but still was shallow. I was changing lures often to get an idea of what worked best. I ended up far enough on the point at a position I felt should have some fish nearby. Points are supposed to be interesting to fish they hang out – I suppose it's like a pub for fish. Marine biologists say more intelligent things like the merging of currents stimulate upwellings and stuff like that. I am still without a follow let alone a take. I am optimistic here at this spot. It's easy to park here too but watch the road is bumpy – take it easy. 20 minutes in and no sign of anything – changed lures and went with a deep diver which did effectively get down before it came back up to my higher position on the rocks. I couldn't work it out. To my mind the fish were simply not there – I plan on checking this out again in future. I headed back to see what was going on with Sanchia and perhaps quickly asses the Laguna.
Here in this video of a kitesurfer you get to see the point or the other side (I was far side) and the lagoon brown water mass..
I didn't do any sunbathing instead went to the lake and there were now at least signs of fish. It was greying over and it was to be a quick try. Getting to the waters edge can be a bit yukky as the lakes are not offering the best approach tough sharp long grasses spike you and the levels of insects go through the roof. Be prepared with OFF or similar anti insect repellent.
Thunder could be heard far off and that with a carbon rod is not good I had at best a few casts. I had a lime green see through rubber thing on the end. Casting out was also tricky as there were bushes and shrubs around. Had I hooked anything there were untold tree or bush roots to contend with. It wasn't an ideal spot but I needed to get a line in. Within 2-3 casts I had a big silver flash near my lure and near me – wow excitement. Almost as if I had upset a sleeping 20+lb tarpon..heart racing. Sanchia instinctively knew there had been action. She is good at spotting fish action and was annoyed she had missed it. I was confidant of more this week. The tarpon either missed my lure or decided to just play with it. I cast a few more times but nothing more rain started to come which in Antigua is usually a lot and for a shorter period. Such was my confidence I thought we would be back when the thunder was not. We needed to go eat anyway. So again it was a blank session but at least I had seen a fish and my hopes were still good.