Set on the west side, Cocobay is an all-inclusive, adult-only dream. A suberb setting even by Antigua resort standards.
Often confused (and compared) with Cocos Hotel this adult only resort sits further south on equally fantastic beaches. This is a trendy hangout and one of the places to stay if your anyone!
About Cocobay Resort
The Cocobay Resort is an all inclusive luxury accommodation, right on the beach, with a chic atmosphere and supreme views of the ocean. The estate is perched on Valley Church Beach and Little Ffryes Beach, both considered excellent examples of Caribbean beaches.
Colourful tonal cottages & individual suites provide private furnished balconies. Views of the gardens or sea. Private pools and outdoor bathtubs can be yours depending on the service level you elect for; a choice of 3; Sea Breeze, Silver Sand Pool and Starfish Waterfront Pool. More on those later.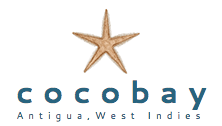 This part of Antigua has enough of everything; tours, nightlife and great beaches, plus an array of restaurants and the Jolly Harbour Marina and complex.
Sheer Rocks is the in-house, Mediterranean-style restaurant, with tapas during lunch times. Please know, eating here is not included in your All Inclusive package.
Dining
Rafters Restaurant & Bar is the main restaurant serving a la carte for all 3 meals. Rohan Bastian is your head chef. The bar will also provide snacks as you may wish alongside top cocktails, premium spirits, wine beer and soft drinks. Enjoy the resort evening entertainment here (6 nights of the week) and meet your fellow guests. You can organise a private dinner which chef will fix for you to enjoy on the terrace by torch light. A more exclusive setting can also be arranged with your own buttler service for extra special occasions.

Sandy Ground Sunset Terrace has a restaurant option twice per week (Thursdays & Saturdays) or the bar is open daily until 6pm. This is a fun place to hangout and relax in less formal manner. There are fun events at times; Pizza Party and BBQ evening. And anyway you will have a great sunset view with music and laughter that will likely keep pulling you back in.
Cocoa Coffee Cafe is our cafeine addicts solution with pastries and sweets to delight with great views of the caribbean and their flora. Creative hot and cold drinks served for you.

Sheer Rocks with it's pools and day beds is a bookable dining experience beyond comparison. This is not included as part of the all inclusive package but is of course convenient for guests. Learn more from our dedicated page here- Sheer Rocks.
Fashionable as it is floating snacks can be arranged at your own pool or resort pools. Pick from breakfast, tapas, lunch or the cute sushi boat.
Accommodations
Cocobay Resort rooms range from $460 to $1070 per night depending on season and room type. No TV's are in the rooms but all have a/c.

Accommodations are all inclusive of breakfast, lunch, afternoon bites, pool-side refreshments and dinner daily, along with poured drinks by the bars, non-motorised water-sports, free wifi, nature walks and yoga sessions.- Cocobay Resort
Plans
Sea Breeze
Sea Breeze; Garden View Cottages and Delux View Cottages
Common features in these 2 classes of rooms are:

Shower, hair dryer, iron & in-room safe
Sleeps up to 2 persons
Air con and ceiling fans
King sized beds with Egyptian cotten linen
A tea or coffee making station
Adirondack chairs and hammock

Where the differences are is in the views. The Delux View has partial ocean views or better garden views. The Garden Views have lovely garden views.
Garden View on Youtube - Deluxe View on Youtube
Silver Sand Pool
Two classes of cottage reside here, the better Premium Pool Suite and Deluxe Pool Cottage.

All cottages in this class are better than Sea Breeze in the following ways
Ocean Facing
Plunge Pools
Extra seating area
More spacious living area
Private outdoor double ended 'slipper' bathtub- Only for Premium Pool Suite class
Bathrobes* and extra bathroom amenities *extra charge for Deluxe Pool Cottage class
Silver Sand Experiences are available to purchase in this class if you book directly only. If you can weigh up the extra value vs discounted agregators like Booking.com *1 or travel agents direct they may be worth it for you.
Starfish Waterfront
The highest class of stay available at cocobay. Only 2 Azure units exist and they are the best dwellings available.

The very best of views, space and outdoor private slipper tub.
Waterfront Pool Suite - Unobstructed views of the ocean, more space and the highest standard of interior trim and functionality.
Azure Waterfront Pool Suite - The only 2 best of resort and class dwellings with everything on offer.
---
PLANTATION HOUSES

"Master bedroom with king-size bed, second bedroom with two twin beds and private bathroom with shower, 2 large airy verandahs with panoramic sea views, spacious and comfortably furnished living room, air conditioning, ceiling fan, mini fridge, shower, hair dryer, coffee/tea maker, iron & ironing board (on request), In-room safe. This unit sleeps up to 4 persons."
---
Dining
The dining experience has been something to rave about here, you willl need to make a booking since it is inside the resort but not just for the guests. Mediteranien influenced with a sunset to make the most of romantic evenings start well. Tapas is available at other times.
Cocobay Antigua Location Map
Getting to Cocobay Resort from the airport. The resort is located in the lovely southwest.
Take our safe friendly transfer service Cocobay Airport Transfer >>
Videos
---
Booking
We can offer you a concierge booking service through Best Antigua. Just fill out this form for our in-house travel agent to quote you. Just give us your dates and as much information as you would like. We respect your privacy and do not sell or share your data with anyone.
---
Further Exploration
Here you are in the South West of Antigua - tap here to explore the area specifically:
South West Antigua and not far away West Antigua
*1 We link out to partner sites and if bookings are made we may make a comission which helps us maintain our informational website. You do not pay any more for your bookings made from such links.