Eden beach is best known to those who come to stay in the Hawksbill Resort or those who are searching for NUDE BEACH ANTIGUA!
The only clothing optional beach is this one. And cameras are not at all welcome giving everyone the privacy they deserve. It is also accesible with a bike ride away from Galley Bay Resort, ask to borrow one for a nice if not hilly cycle down. The reward is a splash around in any of the beaches here and the beauty of the natural area.
---
Location
This image helps show the location with regards to the Hawsbill resort (centre) and also Galley Bay (furthest left).

Just not visible to the right side is Pinching beach. You could kayak or swim if you know what you are doing. It will likely be deserted as there is no land access. It's a fabulous beach too.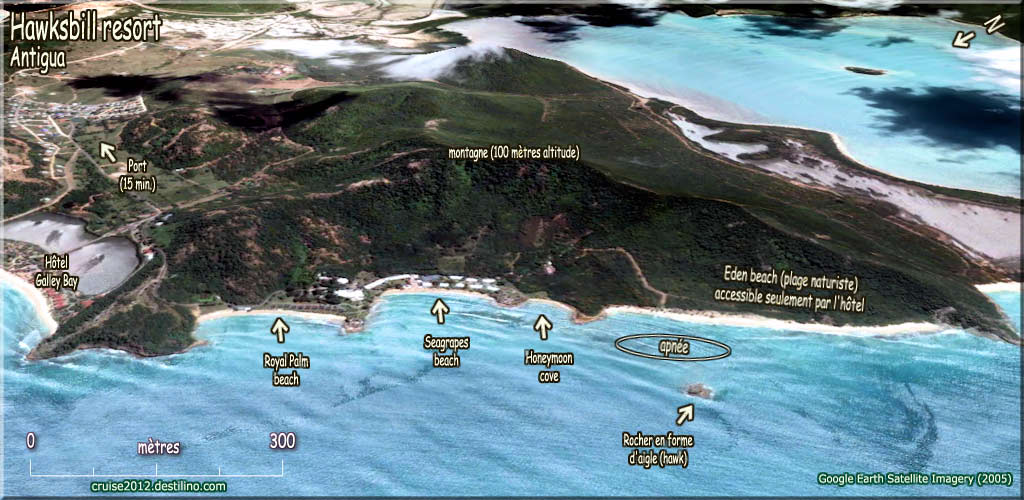 ---
About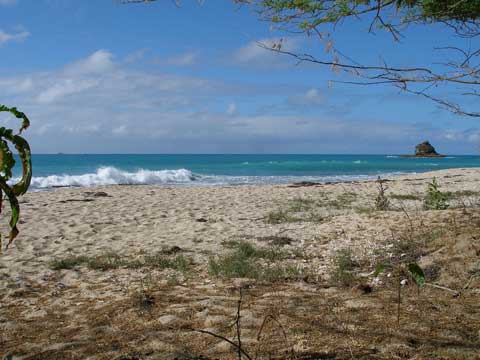 The beach is around a kilometer in length with many areas you can find back in shade and that you will get all to yourself. It is never crowded here and is a beautiful place. There are no amenities so bring what you need and please don't leave anything behind. There is a small islet called 'Hawksbill Rock' out off shore that you might explore with a kayak from the Hawksbill Resort or it might make for a decent snorkeling spot. It's untypical in that the seabed is a bit rocky here.
---
Reviews
GBCheesehead
Eden Beach Is A Beautiful Nude Beach - No Amenities
"It was a $15 taxi ride from the port to Hawksbill Resort, and a long walk through Hawksbill Resort to finally pass through the white gate on top of the hill to get to the nude beach. The beach was beautiful, there were free beach chairs, but nothing else...including only about 8 people on the mile long beach. The resort offers $60 all inclusive eats & drinks for the day, but it's way too far from the beach to be worth it. Be sure to bring your own drinks. Taxi at the resort delivered us back for the same fare." https://www.tripadvisor.co.uk/ShowUserReviews-g147242-d519608-r248779008-Hawksbill_Bay-Antigua_Antigua_and_Barbuda.html#
Image Credits
Eric Jung - www.ericjung.com
David Burtnick- Google Review Photo and Map
Carsten Dohler - https://www.flickr.com/photos/[email protected]/@N07/
---
Shop