If you wish to fly to Antigua ANU in the Caribbean from the UK, then you will need to go direct from London airports.
(LHR) to Antigua (ANU)
Airlines
Virgin and British Airways
Virgin Flights to Antigua Days 2023 to March 2024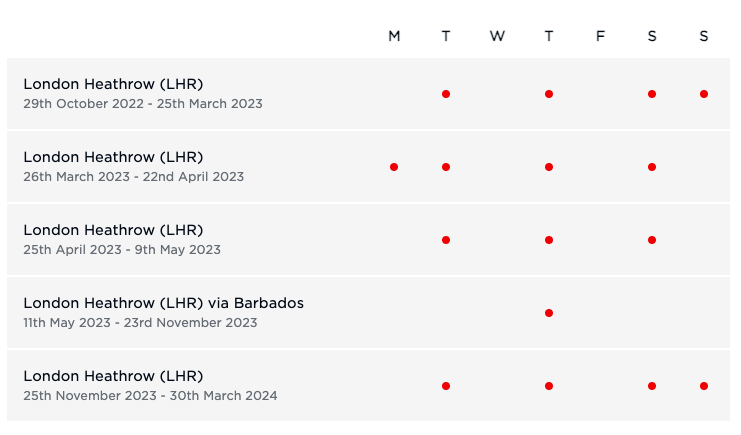 This would be a shame though as part of the attraction for visiting Antigua is that you can get there in approximately 8.5 hours from the UK DIRECT! You might if In season (November to April) try to get a flight from Manchester with Thomas Cook Airlines. They can also be great fares so definitely check them out directly as you might not find them with Skyscanner– not everyone uses them! Currently from the UK TUI do not fly or do holidays to Antigua.
So try and find a direct LGW to ANU flight and arrange travel to from Gatwick. Maybe this means that people who visit Antigua are living close to the south or in touching distance of Gatwick. Myself it involves a drive af 2.25hrs. If you add the time at the airport its not so bad for a week to get to a tropical destination with the qualities of Antigua.
If you are looking at Antigua from Canada then you are in luck. There are some really cheap packages available to various resorts on an all inclusive basis. Also flights are probably as cheap as anywhere, being further away from the USA you might expect they would be more but currently as of 2018 this is not the case. If you are flying from the USA then you have a lot of options especially if you don't go direct. Take a look at options from skyscanner to get to Antigua.
How to Find the Cheapest Fares to Antigua?
My biggest tip for a while is ba holidays, that is British Airways not Best Antigua! Where you get a flight and a big discount for booking a resort on top. They offer all inclusive properties which is a theme you ought to buy into in Antigua.
It can be worth checking Virgin Atlantic who has a similar schedule to BA but they seem to have higher prices in general, well you have to pay for the red and all those fancy ads. Sometimes though you can find good seat prices.
I have to say I'm not impressed with the comfort either BA or Virgin provide these days and I think this is probably a global thing anyway. There isn't enough competition for Antigua. I would say that our travel with Thomas Cook was fine and given the prices very good.
Tips for Arrival in Antigua
Avoid buying a transfer from the bigger web players who advertise at the top of Google – your return transfer should be less than 80USD RETURN for the furthest resorts like Nonsuch bay and half that for Dickenson bay Resorts.
Items to buy before you arrive should include bug repellent (mosquito and sand flea) and get your suncream from the UK before you get to the airport. Also take a look at these inflatable cup holders.
If you get your transfer from Best Antigua you can request it include a survival pack including a big water. If you don't try and get your taxi driver to stop so you can buy water for your first night it isn't good enough being all inclusive after the bar closes and you only get a glass at a time.
Cash
Get cash at the airport here is a handy conversion for you.
EC = East Caribbean Dollar (XCD)
Conversion rate approximate and do not include charges from your bank and from the ATM.
£10 = 34 EC
£50 = 168 EC
£200 = 673 EC
Download our printer friendly conversion Antigua Money Cheat Sheet.