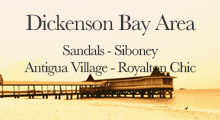 Dickenson Bay Area Transfers
Original Price
$ 100.00
Price
$ 80.00
Royalton CHIC - Siboney - Antigua Village
Manufacturer:
Best Antigua
ANU ➡️ DICKENSON BAY + DICKENSON BAY ⬅️ ANU
This is the airport taxi transfer page for the Dickenson Bay area for:
Sandals Resort
Royalton CHIC
Siboney
Antigua Village
Private Villas
This is for a private vehicle just for your party.

Your transport vehicle will be appropriate for the size of group and will be safe high quality and comfortable.
Please Note the Following.
PRICES ARE ROUNDTRIP- ANU ➡️ RESORT - RESORT ⬅️ ANU (INCLUDE BOTH LEGS) 😃
The price includes all taxes and there are no hidden costs.
Please contact us if you are a group larger than 4.
Luxury Upgrade Available
You can upgrade after booking our regular service no problem. The following price includes a good selection of drinks!
Lexus $200 each way.
Luxury Van 4 Pax from $240 each way please ask.
Lexus
Luxury Van