Who this article is aimed at: This article is aimed at tourists or people on holiday in Antigua who would like to have some kind of a sailing experience. Antigua is renowned for sailing as the trade winds are ideal and there are plenty of things to see at sea like neighbouring islands etc. So it's a very nice thing to do for visitors especially if you have never been sailing. If you have been then I still suggest looking into this article you will find sailing charters to suit your crew and experience. Or if you are also looking to expand your sailing career then many of the links in this article will be for you.
Why this article ?
For a novice you need some guidance on what is available for your ideal Antigua Sailing Tour. If you look on some of the bigger websites like Trip Advisor Sailing in Antigua it is information overload and you have to read a lot. You don't quickly get to your ideal experience. Drilling down through Sailing websites is something we have been able to do in detail and giving you a boiled down version that is unbiased and not padded. Where there is scope for a deeper level of interest links are provided to keep the read quite short.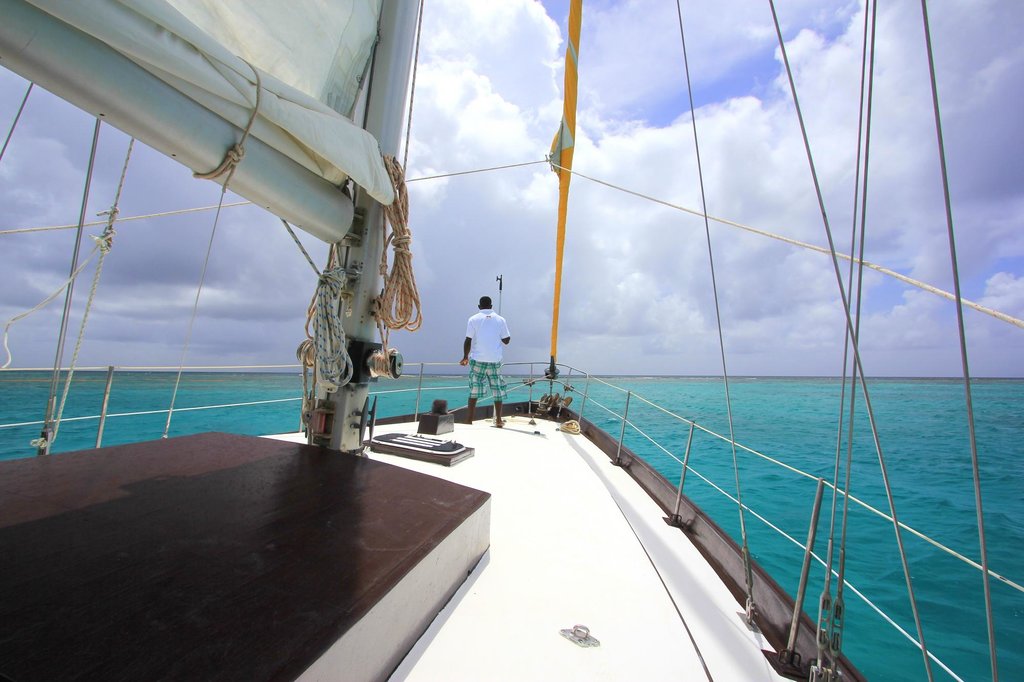 Lets categorise for you some typical scenarios and some others breaking the traditional mould of type of sailing Tour.
Bareboat Yacht Charter
This will most likely not be for you. You will already know about this if you have the qualification necessary to captain your own charter. It's really simply renting or chartering an equipped and maintained boat.
Captain only Charter
This is where you might like to help with some sailing tasks as you may have an interest in learning to sail. You most likely will be supervised and taught a great deal on this interesting option. You get the option to do as little as you like all the way down to just sitting back an enjoying the sounds and smells that are sailing.
Crewed Yacht Charter
Fully pampered to a larger or lesser extend (pricing will be according) you will simply be along for the ride and experience. You are more into a sailing experience than you might find someone looking for a day sailing experience.
Typical Durations for both these kinds of yacht charter can be custom from a day to a week. You can also get a variety of itineraries that can be as interesting as a one way to Dominica. It can be worth emailing the companies for your own custom yacht charter, as many are happy to consider it. In a weeks charter you would stick to the Antigua waters typically and this would be a fantastic way to appreciate the island. For many Antigua is all about the sailing.
Luxury Crewed Yacht Charter Antigua
Day Tours
Typical day sails happen over a 6-7 hour period. This for many can be enough but for others staying overnight on a boat is quite an adventure. Star-gazing and expanding the time to allow for things like a spot of Antigua Fishing is a clear advantage if you can spare an extra day in paradise.
Half-Day Tours
Shorter duration tours during the day to sunset cruises, this is a larger category since it starts to include the volume tourism that can be surprisingly fun and valid. It certainly helps get you on a boat if you are just a couple. Most private yacht sailing will start at 4 people or at least charge you on this basis to cover the expensive costs of sailing. And you might be surprised to learn that for a group of 4 it can be as little as $75 USD. If you are keen to do a half day tour then check out our Best Antigua Half Day Yacht Tours.
Kinds of Boat
Aside from the length of say a yacht – catamarans are a popular vessel. They have webbed areas that yachts don't though don't imagine that yachts feel small and cramped. For the volume tours like a sunset catamaran sail you would need the deck space of a cat (as it is less private) and also they can get close to the beach for getting on and off. Sailing on both feels different and you may have to simply go again! If you are looking for a booze cruise then Antigua doesn't do that exactly (it's all a bit relative) however the odd sunset sail tours on the catamarans are certainly fun and have booze and conga if the crowd are into it – the crew will be ! Click here for the closest thing you will get to Antigua Booze Cruise.