It is located at Antigua's best Dickenson Bay beach and has been christened as the world's most romantic resort year in year out.
Sandals Grande Antigua Resort and Spa
It is an all-inclusive resort with six freshwater pools, six whirlpools, eleven restaurants, four bars, and a 24-hour fully equipped fitness center. With the pools you can indulge in water sports as well as scuba diving. The bars will provide the variety of drinks you may need.
You will also get to enjoy state of the art banquet and conference facilities, free all round transport to wherever you want to go as well as free Wi-Fi in all rooms and its surroundings.
Guests have a choice of either staying in the Caribbean Grove or the Mediterranean Village and are bound to enjoy air-conditioned accommodations overlooking the beautiful tropical gardens and beaches. Most rooms feature king-size mahogany 4-poster beds and patios.
You will experience heaven in the breathtaking Caribbean seaside garden oasis with its eye-candy meandering pathways and the skin tickling cooling winds.
The breathtaking sight then takes you to the villas by the sea at the six star all suite Mediterranean village.
You will have the pleasure of stretching your muscles on the super soft tiny white sand that cover the entire distance of Antigua's winding coastline and experience beauty at its best. It will definitely fill your body and calm your nerves.
With its all-inclusive concept, Sandals has been voted the world's best year in year out and has earned resort awards and accolades placing it above many others.
It has also been voted as the World's Leading Honeymoon Resort and definitely it is the best holiday destinations for couples that need a romantic and blissful gate away.

Learn more about Sandals Grande Antigua on our Resorts page.
Blue Waters Resort & Spa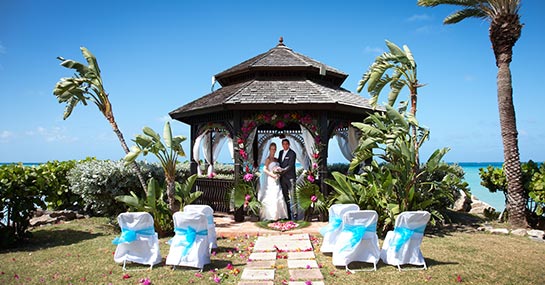 Blue waters Resort is a family owned hotel that was started in the 1960s and offers high standard services to its clients. It is located on the Northwest corner of Antigua where the Caribbean Sea laps against the shore. See Antigua north west area information.
It consists of three restaurants namely; Palm Restaurant for breakfast, lunch and dinner, The Cove Restaurant for dinner and Bartley's Restaurant for dinner.
It has tree bars, seven swimming pools, 58 rooms, 29 suites, five villas, four penthouses as well as a total of 17 acres of well landscaped tropical gardens
It provides luxurious services with various pools, secluded beach coves and 17 acres of stunning tropical gardens and blue waters.
The palm restaurant provides al fresco dining where guests relax as they enjoy the Caribbean Sea breeze with spectacular view of the hotel's bay.
The Cove restaurant cliff top setting provides the most breathtaking view to come across anywhere else in the island. Its new suites provide extensive living areas and private pools for larger parties.
Not to leave behind is the amazing Bartley's restaurant that provides the most romantic setting for an intimate evening.
Blue Waters consists of 116 rooms and suites plus four villas. Accommodation is all trendy featuring private balcony or patio, coffee facilities, radio, air conditioning, all grooming needs among others
It has a full service spa, gym and outdoor tennis courts as well as watersports facility offering windsurfing and snorkeling lessons. If interested, Blue Waters can arrange for deep sea fishing, parasailing and horse riding.
In the past years Blue Waters has won various awards including the World Travel Award for the Leading Hotel in Antigua & Barbuda and Queen's Diamond Jubilee Award for its contribution to the island.
Learn more about Blue Waters Antigua on our Resorts page.
An Antigua vacation is definitely the place where one can find the thrill he/she desires. It is a pure paradise!
These are not the only resorts that are perfect for getting married in but they do specialise in this. For a complete list visit our resorts page.