Check our rates and book our private antigua airport transfer
The choices for how to get from the airport in Antigua (ANU) to your resort are
Private Transfer
Rent your own car from the airport - start driving straight away.
Airport Taxi (economic for single travellers)
1. Private Transfer
Our Private VIP Meet and Greet Service
The best option for speed and value if you buy from us Best Antigua! You get to go straight away and get met at arrival hall by name. You have your own PRIVATE mini van.
Secure Online Booking
Click on the resort of your name or area (don't see your resort? Just email This email address is being protected from spambots. You need JavaScript enabled to view it. or chat):
a) b) Blue Waters c) Cocos Hotel Cocobay Resort d) e) English Harbour f) Falmouth g) Galley Bay Resort h) Starfish Halcyon Resort i) j) Starfish Jolly Beach Resort and Jolly Harbour k) l) m) n) o) p) Pineapple Beach Club q) r) Royalton Antigua s) Starfish Jolly Beach Resort Starfish Halcyon Sugar Ridge St James Club t) u) v) Verandah Resort and Spa w) x) y) z)
Customer Testimonials
We have just returned from an amazing stay in Antigua. Our airport transfer organised through best Antigua was faultless and one I would recommend to others and shall use again when we come back! Calvin was great and answered all my questions I had over email before we went out and the booking was smooth and efficient. Our driver Lennox was fantastic. After a long flight you want a friendly face waiting for you! And we got just that. Easy going conversation, safe driving and information about the islands and excursions we might be interested in. It definitely helped get me in island mode. We stopped off for a waddali enroute too with was a lovely welcoming touch. When it came time to go home he was at the hotel in plenty of time to get us back to the airport.

Great service!

Billie and Rob - Jan 2018
"We had a great time at the Pineapple Beach Club. We didn't do much, just relaxed in the sun, but Antigua was well worth a visit and we hope to return before too long.

When we do, we shall definitely be contacting bestantigua.com to help with the arrangements. The airport transfer was great value, Elwin was there promptly to meet us at the airport and to take us back when it was all over – and he gave us lots of interesting information about the island as he drove. It all helped make the visit much more relaxed."

Brian T
"
Just returned from a fantastic holiday in Long Bay Antigua. This was our first trip to the island and we were lucky to choose the guys at Best Antigua (https://bestantigua.com) for our transportation. Excellent service from beginning to end and far more competitive than the other transport firms we looked at. From first contact to last they were helpful, timely and informative, we were collected and delivered back to the airport comfortably and on time. Lennox our driver offered interesting information about the island and can arrange tours and car hire etc. if needed.

We would definitely recommend these guys and will use again when we return.

Many thanks to Calvin & Lennox for helping us settle in and feel at home.

Mark, Natalie & Charlie.
"
Please leave us a review on Google here >>
If you prefer to email then please contact us to arrange a booking or ask for a quotation, email This email address is being protected from spambots. You need JavaScript enabled to view it. make sure to supply your dates of arrival airline name flight numbers and times and how many passengers (any special requirments like child seats etc)
Please check this table for Private Transfer Rates ROUND-TRIP/RETURN from the Airport (ANU) to your resort.
One of our drivers in person the Lovely Lennox!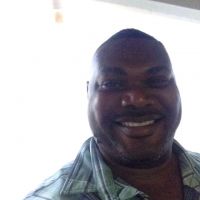 Skyscanner also do airport transfers to ANU click the logo to compare prices for your resort

2. Rent Your Own Car
The best option I recommend if you are consdering to rent a car or jeep is to rent your own car. The return transfer almost pays for one fith of a car rental based on a week and a medium sized car. To check car rental prices look here at our car rental calculator app. If you want to get more of an idea about driving in Antigua.
Sky Scanner also do competitive cars