If you are keen to strike out and discover Antigua with more privacy then this tour might be for you. You have full access to the islands independent tours but at the same time have the guide drive you and keep you entertained. Stop where you like and spend the time you like. Get more comfort and more privacy and look at optional extras such as our romantic hearts package. The tour includes just your experienced passionate licensed guide and comfortable vehicle.
About
The keys to the island tour is just that; all you need to get full access to everything possible in Antigua within time constraints. Popular with cruiseship visitors the tour allows you to do the beach stop (why not? Antigua has some fantastic beaches), but also visit the island in your own way with privacy. This is not a group tour. You can make your mind up on the day depending how it goes so is popular with young families with tiny beans who can be variable.
Advantages
This service is more than a tour though you will be getting excellent guidance from your guide at all points en route across Antigua. If you are really enjoying Nelsons Dockyard then stay longer your guide is waiting for you. You will have to respect their decision with respect to getting you back to the ship on time!
Unlike with a standard island tour you take the time you like and visit the things you want to do. You will be driven around in comfort and privacy. You will be able to find the better beaches and avoid the crowds, though the beaches won't be empty on any cruiseship day you could get your robinson crusoe experinece or a very romantic beach time if you are in resort or villa and can pick your day.
Sample Itinerary
Choice of
a) Stingray City- hang out with stingrays in the shallows in a safe environment with the most friendly rays you will find.
b) Zipline Canopy Tour
c) Other...custom
+
English Harbour- get your historical fix in Nelsons Dockyard with it's beautiful gardens and museum (1-2 hours) potential lunch stop
Beach stop
The above is a sample only! Your guide and Best Antigua will be giving you plenty of ideas given your interests.
Disadvantages
You can be in danger of trying to do too much and not allowing yourself the time to relax.
You will need to be clear sometimes that an extra hour in a spot might make it no longer possible to do another thing.
This costs more than taking a bigger shared tour of the island, that is a very different thing.
Included
The transport costs and the tour guide at your full disposal.
Not Included
Beach Items such as beds and umbrella. Any activities you do. Anything else mentioned but not on the included list.
Extras
Romantic Hearts
Why not have all the fun of a faux wedding on Antigua?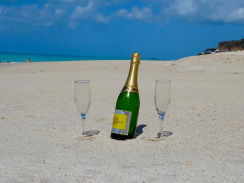 If you are a couple then this is an awesome opportunity for a romantic afternoon out we can provide a blanket with hamper or lunch stop and then hit the beach with a bottle.

E&OE