We have a few adapters that will allow you to plug in use and charge your devices while in Antigua. Please read our article on Electrical Sockets Antigua.
New USB UK USA Travel Adaptor
New USB ports inside the travel adaptors allow you to charge your USB devices at the same time as running your UK appliances.
3 in 1 Travel Adapter: This US Adapter travel from UK extends a USA Adapter (type B) to 2 USB charging ports and 1 UK plug adaptor, allowing you to plug in 3 electrical devices simultaneously. Dual USB charges up to 2.4A/5V, ideal for electric product like Smartphone, Tablet, and other USB devices

Type B plug adapter: Travel adapter from UK to USA, Canada, Mexico, Thailand, Colombia, American Samoa, Antigua and Barbuda, Aruba, Bahamas, Barbados, Belize, Bermuda, Kaiman Islands, Costa Rica, Cuba, Dominican, Ecuador, El Salvador, Guam, Guatem. ala, Guyana, Haiti, Honduras, Jamaica, Jordan, Laos, Libanon, Nicaragua, Niger, Palau, Panama, Peru, Philippines, Taiwan etc. (not for Japan)

Multiple Protection: Safety is the first concern for our US Travel Adapter. This American adapter plug UK to US provides safety for your devices. Made of fireproof material, the shell can prevent impact and ensure your phone, computer, and other valuable devices safe more

Compact and Portable: With compact design of 7.09 x 5.37 x 6.29 centimetre and light weight 82.2 gram, this travel adapter UK to USA is easy to carry and saves your luggage space without having to take other adapters or sockets

Note: This UK to US plug adapter is not a converter between voltages. Type B compatible countries are 110V input. This type B adapter for travel is only compatible for use with dual voltage or worldwide voltage devices with input voltage range from 100 to 240V, or you may need to use it with a voltage converter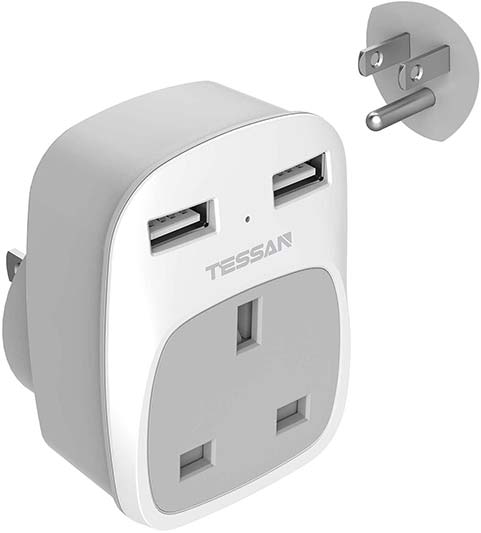 Shop UK to Antigua Travel Adaptors
Check ALL travel adaptor styles on Amazon for UK travellers going to Antigua >>
Are you an iphone user fed up with poor quality cables? CHARGIES the high specification lightning cable allows for rapid safe charging protecting your device battery from overcharging. When you overcharge your battery you shorten it's life leading to a faster need to replace the battery. This is an expensive inconvenince. So using chargies iphone cables makes sense.