Verandah Resort & Spa All Inclusive Resort Antigua
A well rated all inclusive family resort. The biggest downside is it's secluded location on the island- which may or may not be an issue.
Situated across some of Antigua's finest coastal nature with nice beaches nearby.


The Verandah Resort and Spa located east side next to calm clear caribbean waters. Ideal for families through to romantic couples the Antigua resort has everything you need. An all inclusive plan helps you relax and enjoy a great family vacation.
Get me to the beach..
It's nice leaving the wallet, keys, mobile phone (maybe not the mobile) and wriggling your toes in the sand starting your vaction trying to slow down. The Verandah beach sits on 2 beaches, the rasta beach and the main beach - your never far from a bit to eat or drink. The water is ideal for snorkling in safety too.
Accommodations
180 vaulted ceiling suites or one or two bedroom size provide the resorts main accommodtions. With Caribbean influenced interior decor, light and airy colours you will feel at ease. The one bedroom suites (duplex) can accommodate 4 adults. Larger families might like a two bedroom suite. Expect all the trappings of a mid to luxury resort. Single suites come with a king-sized bed and queen sleeper sofa. This is not a resort with accommodation blocks, the 180 suites are split in typical cottage style constructions adding to the charm.

Also available are 2 bedroom villas with plunge pool.
All Suites come equipped with LCD satellite TV, air con, ceiling fans, in-room safes, direct-dial telephones, mini refrigerators, microwaves, hairdryers, coffeemakers, irons, ironing boards (There is a dress code for many of the restaurants).The different suite categories are grouped by view: Superior Waterfront, Waterfront, Waterview and Hillside. Waterfront suites have views over the turquoise horizon.
Food and Drink
You won't get bored dining in one of the four restaurants or the informal beach grill. The main Seabreeze restauarant (breakfast lunch and dinner) accomodates themed internatonal cuisine as a buffet.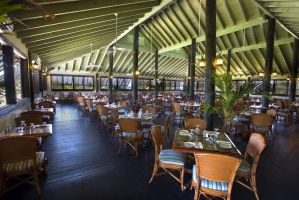 Nicole's Restaurant (reservation required) is fine dining and requires a surcharge of $40 per person. Fantastic Italian and French dishes await your buds.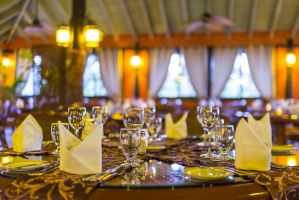 Enjoy Caribbean themed food at The Bucaneer a la carte, perfect for all the family. Two other less formal spots are left to sample. The Beach Bar and Grill and the Wadadli Snack Shack allow you to enjoy food and drink right by the shore while you enjoy the beach.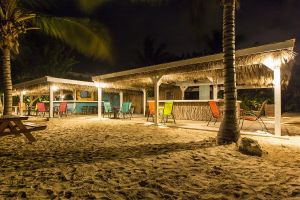 Activities
Inside the resort grounds there is so much to do it might be wise to have some form of a plan! With activites in and out of the water and costing varying degrees of energy (easily replaced by rum punch) required there is something to suit everyone.
Some of the activities at the Verandah include:
Hobie Cat - we can get you sailing within a day for beginners!
Tennis - improve your serve or volley.
Pedalo or Kayak - the waters are excellent.
snorkelling - enjoy the colours of tropical fish in the excellent bay
Crazy Golf
Giant Chess
Verandah Resort Day Passes
If you are not staying at the resort you can still take a day out and experience the resort facilities yourself with a day pass.
There is a single all inclusive option* which costs $95 per adult and $47.50 for 2-11 year olds. Your day pass is valid for 10:30am to 6:00pm.
*Buffet breakfast/ Beach Grill 11AM- 6PM / Buffet Lunch 12 - 2:30pm / Afternoon Tea 3PM/ Wadadli Snack Bar 12PM-3PM Unlimited Drinks by the glass/ Non motorized Water Sports/ Mini Golf/ Swimming Pools/
Getting to the Verandah from the airport
Get organised BOOK VERANDAH TRANSFER and have one thing less to stress about.
Shopping
Shopping for an interesting momento to your special holiday becomes easy onsite with the inclusion of a Colombian EmeraldsTM shop.
The Verandah is a member of the Elite Islands Resorts brand.
---
Further Exploration
The Verandah is located in the East of Antigua locally you can easily find the following:
Indian Point
Hiking Opportunities
Local Touristic Market
Local bars and snack restaurants