Nicely positioned in the hills above Jolly Harbour is Sugar Ridge. Sugar Ridge positions itself apart from any other resort in Antigua. A 4 star luxury boutique Antigua resort there is no other at this price point so it remains a popular alternative to the formulaic Sandals or the boutique-boutique cocobay and cocos hotel. In fact it just about retains the intimacy of a boutique resort but has the facilities of a larger resort. You might like to check it our for your Antigua vacation. It is important to mention that this resort is not on the beach however there is a service to transport you directly.
Accommodations
Rooms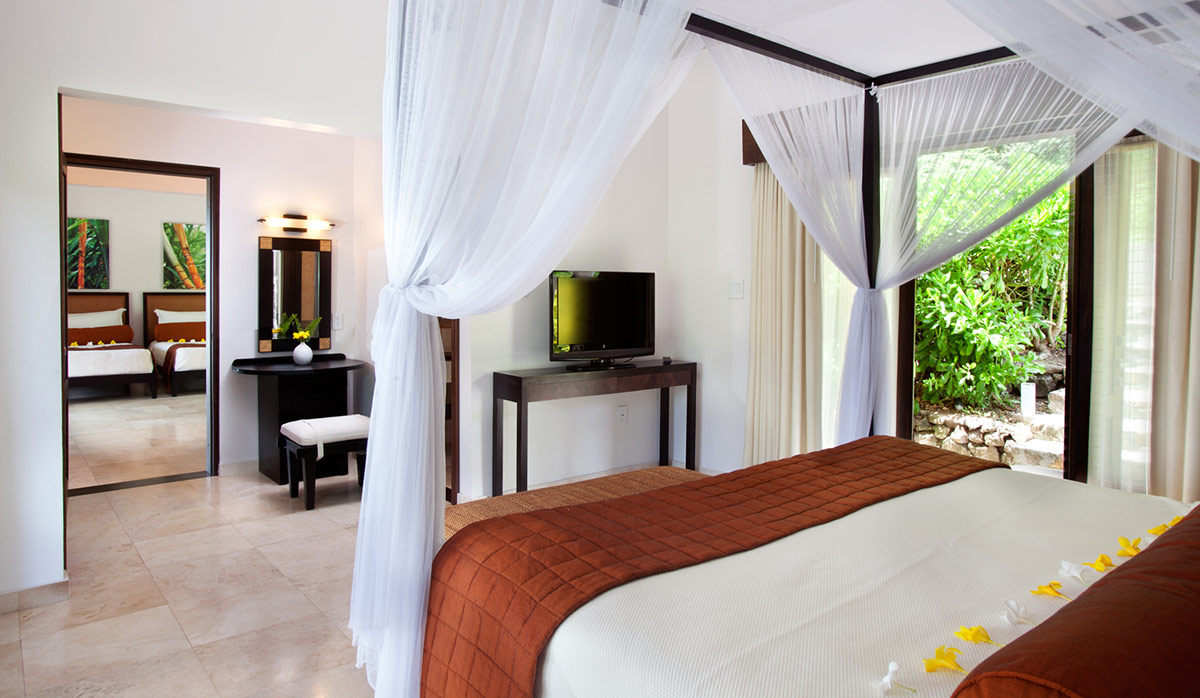 Comprised of a 43 acre space 60 room suites are available within the lush hills of Antigua. This is one of the nicest views on the island. There are two restaurants and lounges to dine and socialise away in 3 pools- though you may have access to your private plunge pool next to your cottage. On site is Antigua's only Aveda Concept Spa. There is also a 2000sq ft, Cybex fitness centre.
Villas
Windies villa is one of 2 luxury villas in Antigua.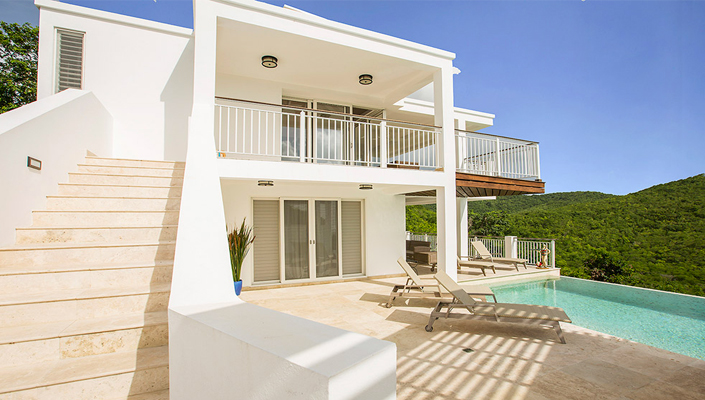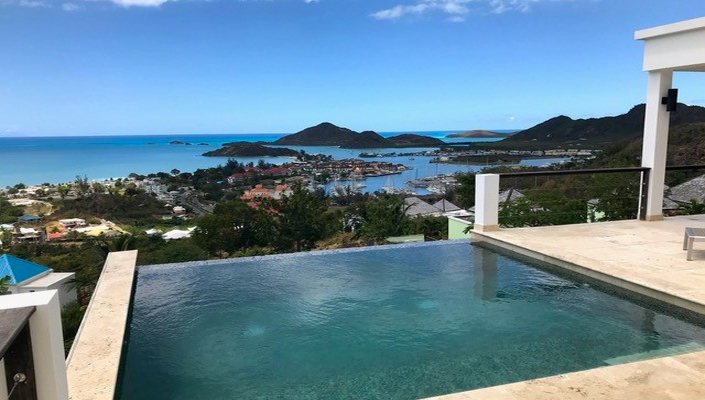 Apart from the resort accommodation there are 2 luxury villas available which are perfect for families and wedding parties. They both feature 3 bedrooms and their own private space including an infinity pool with spectacular views.
Dining
Two restaurants are within moments from your door. Carmichaels and the Sugar Club. Both are very different experiences.
Carmichaels
Carmichaels gourmet restaurant has floor to ceiling windows and outside dinning. As an all inclusive guest staying at least 5 nights you can dine for free on one evening. Carmichaels is only open for diner. It is one of the best dining experiences in Antigua and you can enjoy the views regardless of if you are staying in the resort. Executive Chef Gregory Williams has been with Sugar Ridge from 2009; the menu is Caribbean seafood based.
Sugar Club
The sugar club is the defacto dining and entertainment area and what a nice space it is. With trade winds blowing through in the day and the perfect temperature in the evening you can dress in style and comfort. It's also a venue for parties and events which will not disturb you. Patio areas alongside restaurant seating make for a varied experience and it is a social delight.
Weddings
Sugar Ridge has a fantastic track record in perfect weddings, you do not need to have a wedding in the resort you stay in! Take advantage of any Antigua beach wedding and use our Antigua wedding planner service for your gargantuan day. As you will see sugar ridge has some excellent locations for the event.
Location
Activities
Onsite there is an Aveda Spa, the only one on Antigua and they have a special spa package you can take at time of booking your vacation or it is available to the public. There is a fantastic GYM perfect for muscle and cardio enthusiasts as well as yoga opportunities there are organised hiking and you can take a bike to the local beaches or Jolly Harbour. You will of course enjoy the two onsite pools, one of which you can do proper laps in due to it's lengthy design. The other is for the scenery and of course is an infinity pool up next to Carmichaels at the highest point. Décor is modern rattan with chaise loungers and shade. There are some of the best beaches nearby and SR shuttle you to them as and when you need. It really isn't a hindrance.
Getting to Sugar Ridge from the airport
Arrive in style with your very own private shuttle. The best transfer service for Sugar Ridge Resort awaits.
Further Exploration
Here you are in the South West of Antigua - tap here to explore the area specifically:
Not far away West Antigua