Recommended for families and couples alike, the restaurants and service receive very complimentary feedback and the all-inclusive watersports are a real bonus. A popular established Antigua resort based in the south close to the famous English Harbour and easy to get to Shirley Heights sunday BBQ and evening party.
About St James's Club Resort
4 star Resort in Antigua - check on Booking.com Guests rate this around 8/10 in general.
The rooms are said to be a good standard generally (6 types), but it is worth the cost of an upgrade if you want that little something extra special, perhaps to mark a special occasion. This resort doesn't quite make the Luxury Resort category but for most people it feels indulgent enough. With 225 rooms the resort is one of the largest on Antigua. This doesn't include the 2 and 3 bedroom villas which gives an alternative if you want a mix of rental and resort. They are popular!
The beach can suffer with the usual seaweed clogging, but the staff at the resort work non-stop to ensure it never troubles the guests. It would seem outstanding customer service is of the highest importance here. In 2018 the sargassum seaweed was especially difficult but this isn't just a problem for this resort in the Caribbean. As visitors we need to get used to many new challenges of late.If ever it gets to an unacceptable level, guests have been moved to the pineapple beach resort a bonus of staying at an elite island resort.
Note the resort also has villa style accomodation.
Beaches
This resort has 2 beaches you can chose from. Mamora Bay and Cocos beach.
There is a teen or kids club with pool tables, table tennis and much more.
Resort Facilities
Swimming Pools
Piccolo Tiered Pool (Adult Only) A small pool for well-being and inspiration
Royal Suites waterfall pool (Adult Only)
Royal Suites plunge pool (Adult Only)- small no good for swimming but the views over Mamora Bay are beautiful
Villa Children's Pool
Reef Deck Pool
Cocos Pool
Resort Accommodation
If you are in a villa then you will be located in what they call the village. If you are a room-based visitor then you will be in the club side. wifi costs 60 dollars per week as an extra unless you have a royal suite then it's included. We recommend simply booking a room based on your budget. To get iPod docking stations and HD tv's you will need to be in the Royal Suites. Otherwise, the rooms have everything you would expect like hairdryers etc. private balconies or terraces.
Dining
Resort Restaurants
With 5 eateries to choose from (4 restaurants and a beach grill), you won't get bored.
Docksider (open air close to the water) has theme nights and is a buffet-style eatery. Caribbean buffet, Asian buffet, Roast buffet. Al-a-carte restaurants are spread throughout the resort for a change. 11- 11 Great for Al a carte and kids pizza and pasta dishes. Piccolo Mondo (Surcharge) Italian cuisine not piccolo in taste!
There is no adult-only dining it should be noted.
Outside Dining
Also located where it is you have access to all the best restaurants in the south of Antigua. If you are adventurous you can pass over Fig Tree Drive one day in your rental car and try Sheer Rocks as an idea. In-house the restaurants are serving buffets fine dining and either seafood, Caribbean or Mediterranean cuisine.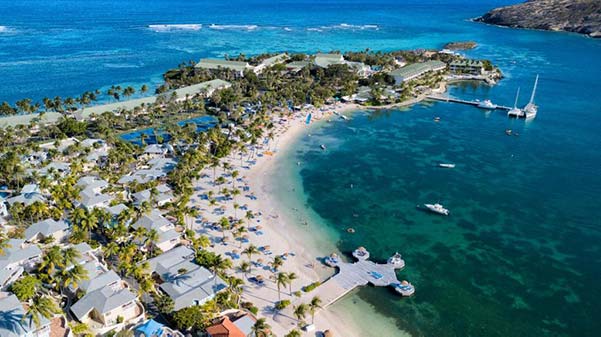 Mamora Bay Beach
Marina and Pier
Where the Calypso Cat offers snorkelling trips, over at Green Island; and it's a nice place to walk in the often perfect Antiguan evening air. You can arrange a sunset cruise for your group which is minutes away from your room.
Activities
Activities within the resort itself start with stretching on something like alternate days. Carry on throughout the day to the evening entertainments on offer. In the day fun fitness classes like aqua aerobics or use the fitness and gym onsite. For regular activities, they have cornhole, bingo, mixology, dance and more.. There is a weekly managers cocktail party which you will find at many Antigua resorts- a chance to speak with the manager and staff whilst enjoying a drink in the manicured grounds.
Ball Games
There are 4 tennis courts and 3 pickleball courts, now this is a game that is picking up big in the Caribbean. The staple beach activity is Beach Volleyball, with fun tournaments is usually going on daily. It's easy to also get a non-serious game with staff and other guests- it's a great way to meet others and burn a few calories.
Games Pavillion
Ping pong or pool for the young and old alike. Tournaments are popular and hosted during your stay for added fun.
Watersports
Non-motorized watersports are included in the all-inclusive package and you can take out a Hobbie or kayaks for example.
Spa
The Tranquility Body and Soul Spa is the only activity that is not included in the all-inclusive package which is of course very standard. The spa treatment room has a special open-air room with amazingly beautiful views of Mamora Bay. Certain to be a memorable massage or treatment. Other rooms are available. Regular beauty procedures are available in the salon.
A wedding coordinator is available if you wish to tie the knot with someone you can do it right here!
Nightlife
One of the best places to go in the evening is English Harbour. In season it bustles with a friendly vibe and out of season you can find a quieter scene still one of the busier places to go. So the St James Club is well located for outside fun and discovery. In the resort, there are beach parties to be enjoyed, not to be missed are the fire dance shows carnival dress events and steel drum performances. Don't miss those. For the brave karaoke!
A gift shop is onsite and you are more than a walk away from external shops or bars unfortunately so get some supplies when you transfer in. If you get stuck the gift shop usually has your back. We recommend bite relief or preventative and water for arrival if you get in late dehydrated after your flight.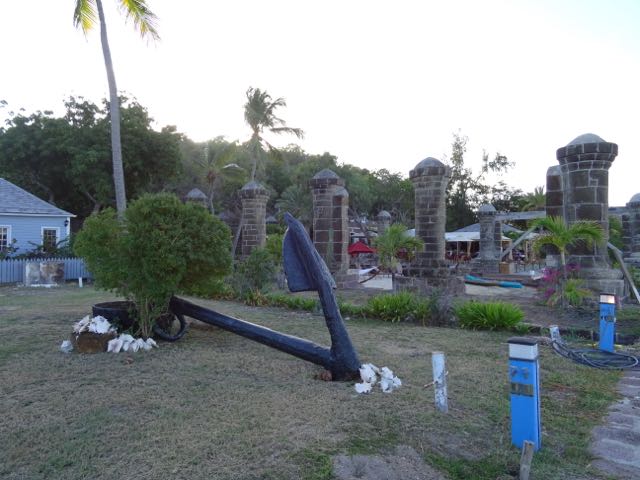 All Antigua activities are available for your trip but you are especially close to the Sunset Party on a Sunday where steel pan music starts the evening and BBQ then contemporary Antigua music follows, everyone dances and it is a must-do! Discover the history and drink some rum with an island tour which includes Nelsons Dockyard. Swim with stingrays or fly through the Antigua rainforest. For a full list of activities check out tours page and Attractions page.
Location Map
Address: Mamora Bay, St. Paul's, Antigua, W.I.
The resort is located in the south of the island and is handy for English Harbour and most of the historic sites. Its location is considered good.
Views from the Resort
Videos
St James's Club Resort Day Passes
If you are not staying at the resort you can still take a day out and experience the resort facilities yourself with a day pass.
There is a single all-inclusive option which costs $95 per adult and $47.50 for 2-11 year olds. Your day pass is valid for 10:30am to 6:00pm.
Further Exploration
You are in the South South East of Antigua, you can find the following points of interest:
Half Moon Bay
English Harbour
Nelsons Dockyard
Shirley Heights