This Antigua resort had a refurb in 2017. Early reports are good with people raving over at trip advisor how good this place is. If you do read between the lines some say the furniture is dated and smaller rooms and beds are issues. they didn't see this spoiling their vacation of course. See below for a link to the reviews. Please let us know how you found the resort.
About Pineapple Beach Club
Check prices for your vacation dates on Booking.com click here >>
There are two freshwater pools and the beach is described as a 'powdery white arc'. It is in fact perhaps the most powder like of beaches in Antigua. This might not be a prefference as at very fine powder level when wet it gets more messy!
Also note this resort is adult only - so go check out the other family based resorts if you have kids.
This resort was formerly known as the Grand Pineapple Beach.
The Rooms
Categories of rooms are Courtyard, Gardenview, Oceanview, Beachfront and Waterfront. Rooms come with air-conditioning; king, double or queen-sized beds; ceiling fan; cable TV; telephone; coffee/ tea maker; bathroom with shower and/or tub and hair-dryer; iron & ironing board; in-room safe. Tropical Waterfront Rooms also include a mini-fridge.
Food and Drink
The Swimming Pool
As this is an adult only resort you won't get kids stuff going on so maybe the size of the pool is less important but pool size has been a critique in some reviews. Take a look yourself.
Video Walkthrough
Location Map
If you have been to Antigua before then you might not want to be based closer to the main attractions, or indeed fancy being out east side. East side there is Devils Bridge and Inidan Point which is good to hike around and that is a good thing to explore from this side of the islnd as opposed to stopping with a tour to get the photo and a small taste of the area. Stingray City and Betty's Hope are two of the closest tours along with Devil's Bridge of course. Catermarans from this part of the island go to Bird Island. Also the Verandha resort and Spa is close by. I think there are many advantages to being in this location.

Further afield is half moon bay and of course the rest of Antigua. If you have never been to Antigua before then don't fret to be out this way. If you plan to go to St Johns more than once then consider the Halcyon or Sandals or even Jolly Beach Resort instead. But nothing is really too far in Antigua.
Address: Long Bay, St. Philip's North, Antigua, W.I.
Getting to and from the Pineapple Beach Club
Airport Transfer to the Pineapple Beach Club- arive in style with your very own private shuttle. The best transfer service for Pineapple Beach Club Resort awaits.
If you want to catch the bus check out the Number 33 which can take you all the way into St Johns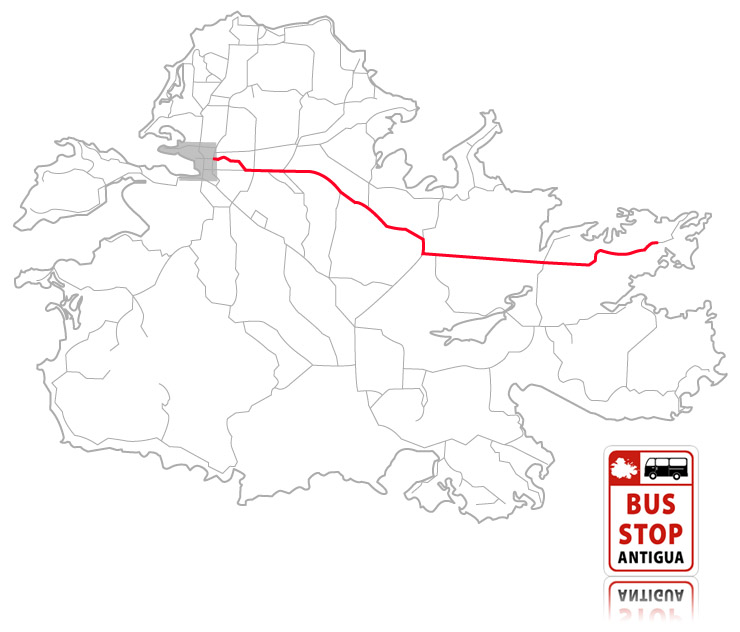 Pineapple Beach Club Resort Day Passes
If you are not staying at the resort you can still take a day out and experience the resort facilities yourself with a day pass.
There is a single all inclusive* option which costs $95 per adult (no child option for the kids only resort). Your day pass is valid for 10:30am to 6:00pm.
*Buffet breakfast/ Beach Grill 11AM- 6PM / Buffet Lunch 12 - 2:30pm / Afternoon Tea 3PM/ Out House 12PM-3PM Unlimited Beer & Sodas/ Non motorized Water Sports/ Swimming Pools/
Further Exploration
Pineapple Beach Club Antigua is located in a tropical hideaway where the beach curves in a perfect quarter-mile arc of brilliant, powdery white sand. Pineapple Beach Club offers Caribbean-style accommodations amidst 30 acres of lush gardens. Guests can swim in the resort's two freshwater pools, enjoy the complimentary non-motorized watersports, or dine at one of the seaside restaurants. A fun Antigua resort.