Located on the east coast of Antigua, Hammock Cove is an adult-only, all-inclusive Antigua resort that offers a premium 5-star experience to it's guests. It has assured itself of it's own identity via it's original foundations; by using it's own excavated matter's mineral colour in it's very design. Local hardwood furniture has been utilized across the 1080square feet in each of the 41 villas in support of the local economy and reducing the carbon imapact.

Check on Booking.com
HC is a part of the Elite Island resort family, and their newest arrival. Hammock cove claims it's place as the newest boutique resort on Antigua.
The All Inclusive Experience
All inclusive is quite new to the luxury market and with the exception of premium branded drinks you will find everything is already included so you can relax for the day in resort without needing money with you.

You can expect amenities such as king-sized beds (Serta perfect sleepers), an infinity-edge plunge pool, deluxe sun loungers, and a wet bar with a great selection of wines and Antigua famed cocktails such as the rum punch..
Hammock Cove is one of the most coveted and highly-rated resorts by vacationers in Antigua and has a great collection of wine and dining options available. There are 41 villas located in this resort, all equipped with luxurious comforts that will make your stay memorable.
Enjoy The Hammock Cove Feeling
Hammock Cove Website Video.mp4 from Elite Island Resorts on Vimeo.
Main Swimming Pool
The main swimming pool is a glorious tiered design across 3 levels.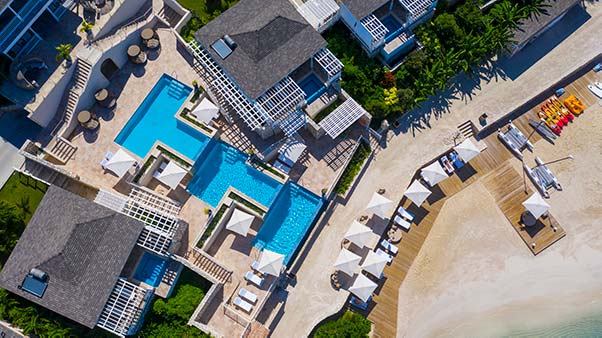 With 2 Gazebo style dwellings special occasions can be easily catered for.
Rooms
The villas at Hammock Cove are everything that you could ask for. These spacious villas of 1080 square feet each come with facilities like a minibar that's restocked frequently; plunge pool; walk-in closets; free Wi-fi; a coffee machine; HD TV; and king-sized beds with Egyptian cotton linens. The design of the rooms is such that you feel the wide open expanse as you gaze across the beautiful shimmering sea from your own private outside terrace area.

A butler will be assigned to you on arrival and you just need to call him/her by phone. A nice touch that not every luxury resort offers.
Villa Layout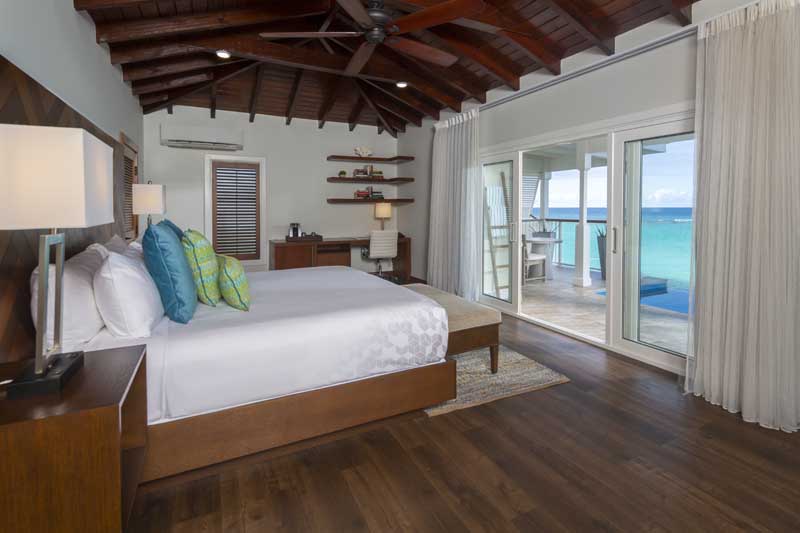 Infinity plunge Pool and Egg Chair
ad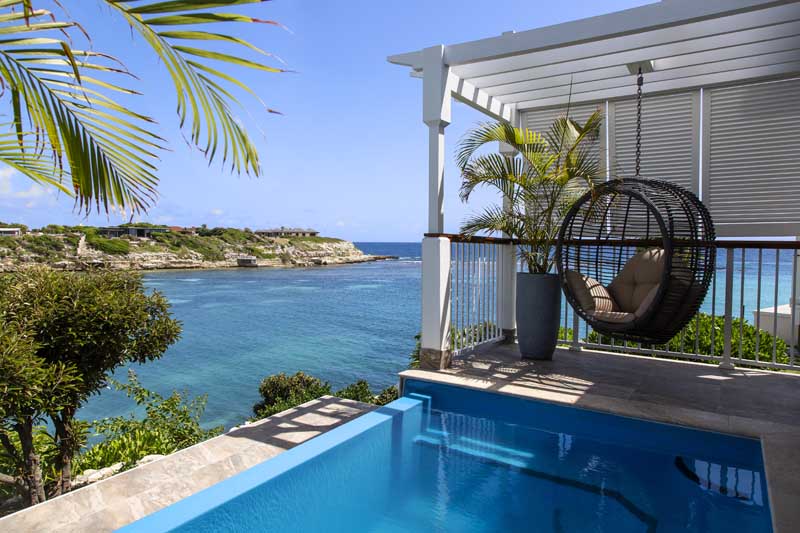 The bathrooms in these villas are stunning, with vanity areas, dual sinks, pebbled floors, lovely wall accents, four rain head showerheads, and a Bluetooth music system to get you in the vacation mood. High end antioxidizing products are free to use and treat your skin.
Bathroom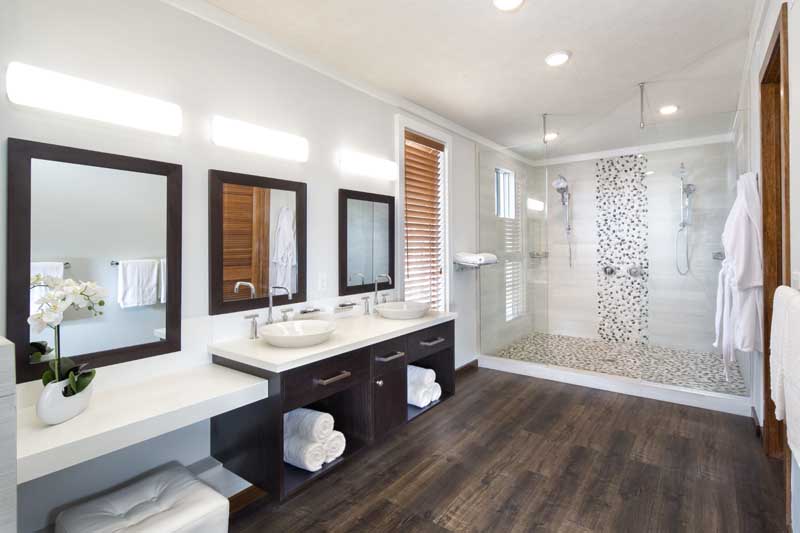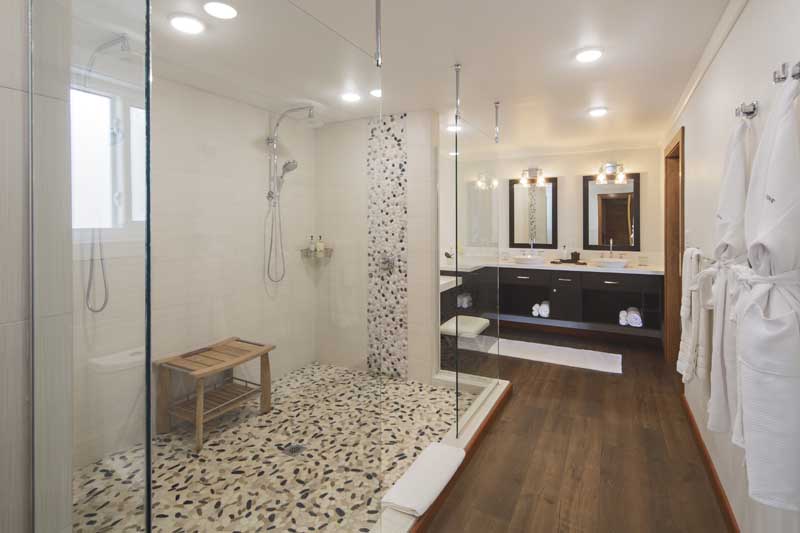 Villa amenities include Serta perfect sleeper king mattresses, Egyptian cotton linens, desk, High Definition TV, WiFi, coffee and tea making machine, mini-bar, USB ports, telephones, bathrobes, hairdryer, walk-in closet, iron and ironing board, ceiling fans, air conditioning, safe and twice-daily turndown service and mini-bar restocking. A unique touch is an eclectic selection of books is also featured in each villa- we wish you luck!
Dining
Hence, Hammock Cove is an all-inclusive resort; hence, you do not have to pay separately for your meals. However, a few premium brand drinks are chargeable.
Restaurants, bars, and cafes
Irina's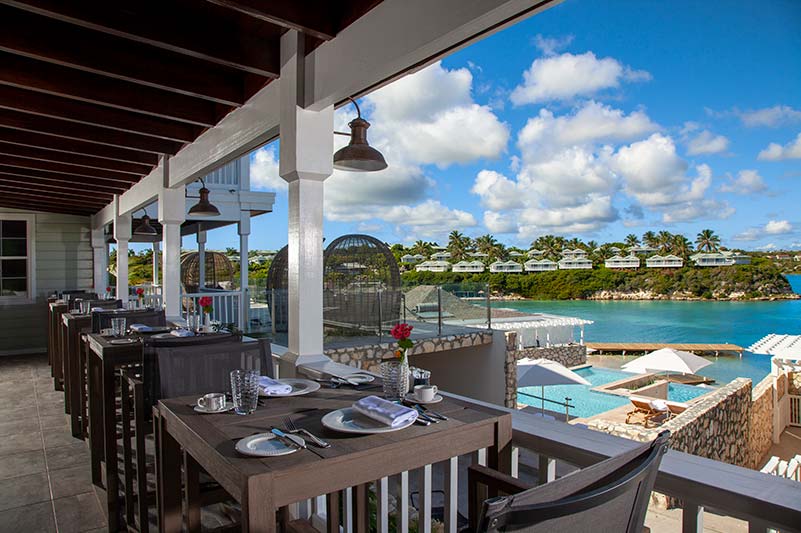 Irina's is located on the first floor and is an all-day dining restaurant with a casual, bistro-influenced vibe. The restaurant is popular for its customized coffee selection, afternoon teas, scrumptious selection of viennoiserie, and à la carte breakfast options that include super healthy detox smoothies. Marvel at the turquoise tranquil waters as you enjoy your food and drink.
Lighthouse Restaurant
Lighthouse is a chic restaurant known for its huge dining halls, Caribbean-inspired architecture, and signature green walls. Reservations are needed for this restaurant, and some of its specialties include Filet Mignon, scallops, risotto, and Caribbean lobster. The chef is a certain Marco Festini who has worked alongside michelin star master chefs.
The dress code is formal and it is a great opportunity for guests to dress up nicely and interact with other guests of the resort while having a great time. It can be booked for a special occasion if you are a group of up to 12 in the private dining room. The restaurant has it's own bar of course.
Nobody Knows
Nobody knows is a great place to have a pre-dinner beer, wine, or favorite cocktail. you can also visit this bar for its famous rum tasting sessions.
Chairman's lounge
If you like to have your drinks with a side of classic games like pool, billiards, snooker and chess, then the Chairman's Lounge is the right spot for you.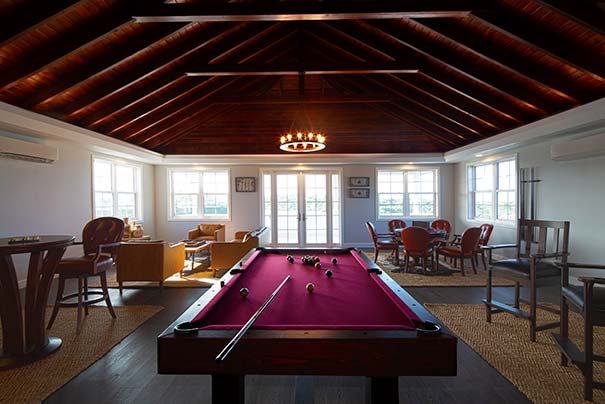 Here, cigars are also available but are charged extra.
On the rocks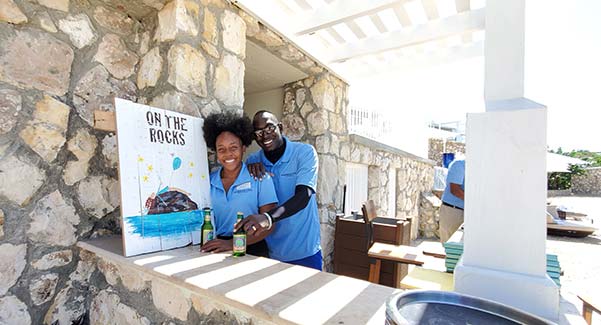 This bar is located below the swimming pool area and serves some very delectable cocktails and other drinks.
Activities
Watersports
Three-tiered infinity pools are located in the Hammock Cove which opens to a private white sand beach. Two gazebos are also available for functions like weddings and private dining.
Non-motorized water sports offered at this resort are water hammocks, sailboats, pedal boats,kayaking, snorkeling and paddleboarding (SUP).
Beach
The beach is somewhat short compared to the often impecable standards of other resorts like Galley Bay with a wooden decked out area but the furniture is top rate. You won't be dissapointed.
General
General amenities provided in the Hammock Cove resort that could interest you are seasonal talks on art and literature; Yoga classes; garden tours; afternoon tea; nature's walk to Devil's Bridge; and Pickleball courts.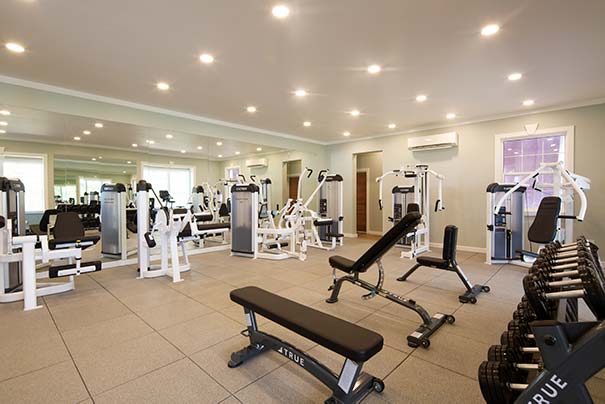 A modern Cybex Gym will allow you to keep up your muscular and strength training.
Tranquility spa
Couples massage room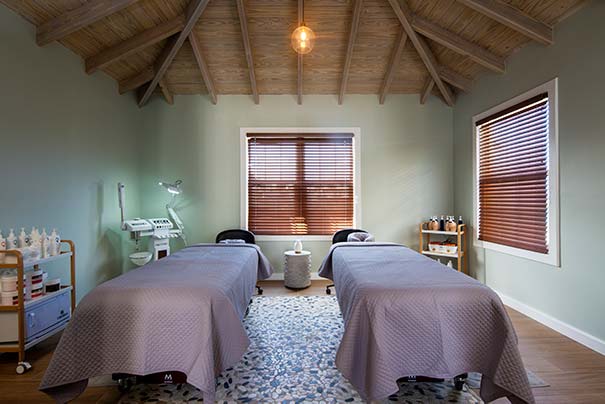 This Tranquility Spa comes with five treatment rooms, a pool, and a sauna where you can spend some free time and enjoy different types of calming face and body treatments.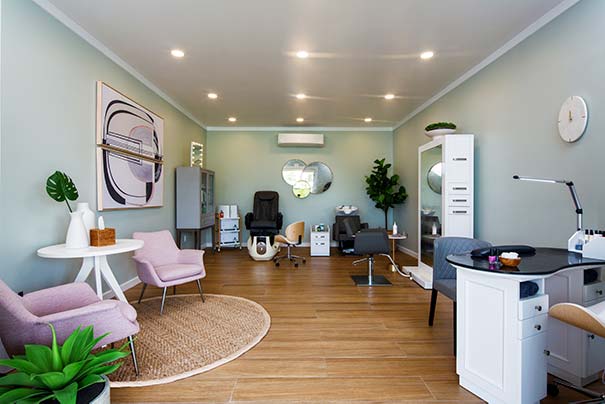 Guests can enjoy the salon with its Blow Dry Bar, and manicure/pedicure station and The Boutique, with a range of currated resort wear, vacation needs and gifts.
Spa Relaxation Area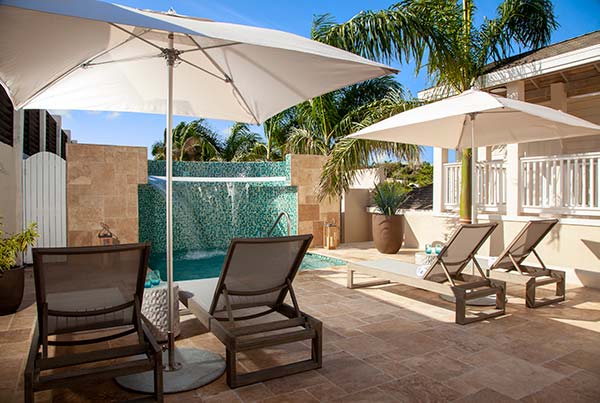 There is also a convenience store which stocks things you are likely to need.
Entertainment
There are quite a lot of activities going on to keep the guests entertained throughout the day, but the main attractions are the blow dry bar, which is also a manicure and pedicure bar, the fitness center with the most modern exercise equipment, and the yoga pavilion to relax your mind and body.
Location
Hammock Cove resort is located relatively close to the airport and it takes around 30 minutes to reach the V.C. Bird International airport even with busy traffic. Book a luxurious ride with our private Hammock Cove Airport Transfers to and from the resort.
Hammock Cove is located on Devil's Bridge Road, just 30 minutes drive away from the airport and the nearest shopping area. It is also close to the Verandah Resort also by elite.
Images provided with permision by Elite Island Resorts.